Looking for a long weekend trip from Bangalore?  Hi, weekend adventurers welcome to another blog. This was the trip we did over the end of last year.. got some time to write about it now!
A perfect Long weekend trip from Bangalore , use my this experience to plan your itinerary.
As the title suggest, it was a road trip across the beautiful western ghats, starting from Bangalore to Murudeshwar and onwards to Gokarna and Goa and back to Bangalore.
Hope you find this interesting. So lets go with Day 1 of our long weekend trip from Bangalore !
Bangalore to Goa Day 1
The start of the journey. We started around 6.00 AM in the morning. Going to Murudeshwar and then to Goa would be a bit longer as compared to going to Goa directly.
But we do not go for such a long long journeys often so it made sense to cover western ghats a little bit more.
The drive is quite good. NH48 is what we took. It's a straight drive and google maps are a good companion.
Couple of things, if you want to eat good and hygienic food, Kamat can be a good option. Specially for vegetarians. For us Kamat resturant  was a savior 🙂
With families and kids on board, we drove slow. We checked into Murudeshwar at around 8.00 PM. So quite late, but it was still good as we were not in hurry!
Our hotel was just near the temple, so a good location. After check in and some rest we were out. 
The statue of Lord Shiva looked amazing and with some colorful lighting, it looked just beautiful.
We had dinner at Naveen Beach Resturant.
The best part about this hotel is that half of its part is out into the beach…I mean to say that it is literally out into the beach and at night you can hear the waves crashing against the pillar when or if you are eating.
P.S the beach looked to be a bit dirty. After dinner and spending some time at beach, it was time to windup the day!
Enjoy some pictures of Murudeshwar below!
Bangalore to Goa Day 2
Got up early and 
visited the famous Shiva temple. The Shiva temple was a beautiful experience the big Shiva statue was my favorite.
By 9.30 AM we were done. The temple and surrounding area is quite good and big. But gets crowded as day progresses.
Checked out and left the hotel at about 10.30 am. We stopped for some breakfast in Murudeshwar and by 11.30 AM we were on our way to Gokarna.
We hit Om Beach @ Gokrana at about 2 pm and happily stayed ther till 5 pm (well I was shocked to know that we spent 3hrs just like that).
But Om Beach is actually quite good. There are some benches on the side of beach under the tree and all the oldies were got settled there and we kids got a nice 3 hours on the beach.
By 5.00 PM we were on our way to Goa. We touched the Goa border by about 8:30 pm. Our first 2 nights were in North Goa.
As soon as you enter the border you are welcomed by a fresh good feel….the roads were beautiful and smooth…they were divided properly and taking curves on that road feels good….the city was beautiful and felt as if I was in a whole new country.
The hotel we had booked was 5 mins walk from beach and this was the USP of the hotel.
Bangalore to Goa Day 3
Woke up, had a good long bath and went over to have breakfast…They had idli, sambhar, toast bread, butter and jam, coffee, tea etc.
I just had bread, jam, butter and coffee. We had breakfast and dinner included. We had breakfast, went back to rooms, packed and head over to the Calangute Beach
If you are lucky you may spot a supercar or two (I spotted a Porsche 718 Boxster ).. 
Now here's what I personally loved about Goa….it was clean and good.
I thought the beach would be dirty but I it was actually clean…
After spending loads of time on the beach and having a good heavy lunch we head over to the rooms to change and then head over to the old Aguada Fort.
Honestly there is nothing much in the fort but the view from the top is really beautiful.
I personally liked the evening view, the sunlight bouncing off the the red stone walls just made the fort look way more beautiful.
We then went over to the Saturday Nite Bazar. 
This place is heaven…. you can bargain  and buy various things for cheap..
Bangalore to Goa Day 4
Day 4 was marked for South Goa.  But before reaching the hotel we thought of covering Basilica of Bom Jesus Church.
Church is very old and beautiful. Do not take selfies inside the church. T
aking selfies may end up in embarrassment for you…you can take pictures outside the church…
Do not make videos also.. 
After visiting the church we went straight to the hotel, which was more of a beach shack. i.e bang on the beach and this was the most cool part of our stay there. "On the beach".
Below is the outside view of this famous church!
How beautiful this looks from inside! Some pics below!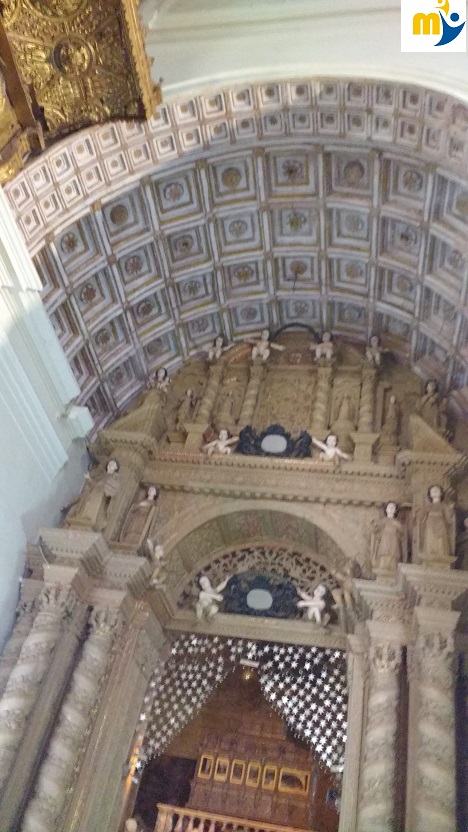 Another one
Palolem beach is very beautiful..the best part of this beach is that it extends for a good long part into the sea. There are powerful waves which are fun to sit in…..
We had bonus for each of the hotels…they both were very close to the beaches. 
I suggest instead of taking time to take photos on the beach we should just relax in the water….in night time it is advised not to enter the water..
But it was good. We did spend a good time on the beach and came back for lunch. And once lunch is done, back to beach. It was so cool.
But the best part was that beach just came alive in the evening. At 
night we had a candlelit dinner on the beach…..this was fun…advantages of booking a beach shack.
The place was just so well decorated. Lots and lots of people around. All having some nice party time. It was just amazing!
Another view of Palolim beach
Bangalore to Goa Day 5
Well this day didn't go that well. 
We checked out at around 10:30 am. 
We were supposed to hit Dudhsagar falls
The best part about this falls is that the bridge scene in the movie Chennai Express (Shah Rukh Khan and Deepika Padukone) was shot here.
We drove about 60 kms just to find out that we couldn't visit the falls..You cannot take your own car and have to take a taxi.
There are only 300 taxis available and out of that about 240 were booked..The queue was just too long….we had no chance and had to return….
We left the falls dissapointed and head over to the Karnataka border…we made a pit stop at Dudhsagar Spa and Resort.
This place was good…you can have lunch and enjoy some activities (obstacle course for both kids and adults, horse riding, ATV riding)
We soon hit the Karnataka border and headed over to Dharwad..
If we knew that the falls would be a bust we could have spent one more day in Goa…
We had a taken a break journey at Dharwad. Just so that the journey does not become too tiring.
Saw lots of windmills on the way.. one of my cool clicks!
Bangalore to Goa Day 6
At 9.30 AM after breakfast,  we were back to Bangalore.
This was the end of our really good and beautiful vacation..
I was really happy with the trip except for the 5th day…Goa has really impressed me 🙂
There are lot of attractions which Goa has to offer and wished we had some more days in hand. I think one 3 days in Goa in not enough. You need to have at-least 5 days in hand.
Or well I felt that Goa can never be enough. It's such a lovely and beautiful place!
When you visit Goa, do share your experience and comments!
Have a good time!
Sagar
---
You will also like: Bangalore to Pondicherry – A perfect long weekend trip