Araku Valley is one of the famous hill stations on the eastern ghats of India. It is a prominent hill station in Andhra Pradesh.
Surrounded by the thick forests of the Eastern Ghats mountain range, it is one of the famous tourist destinations. The Tribal Museum is dedicated to the area's numerous indigenous tribes, known for their traditional Dhimsa dance, and traditional handicrafts is very popular among tourists .
So let us look at
What are the Araku tourist places
What are the food and stay options at Araku
How to reach Araku from Vizag
How to reach Araku from Hyderabad
How to reach Araku from Other part of Country
There is a miniature train runs which through Padmapuram Gardens. It is one of the important tourist attractions there.
Araku tourist places
There are many tourist places in Araku valley region. But below are my top picks which you should have in your itinerary. Check out the list of these top Araku tourist places
Borra Caves
One of the must visit tourist places of Arku valley region. Should be number 1 on your list.
Borra caves are located around 90 Kms north of Vishakapattna, in the ananthgiri hills range in the eastern ghats. They range from 800 to 1000 meters and are one of the deepest caves in country. Naturally formed, they are believed to 150 million years old.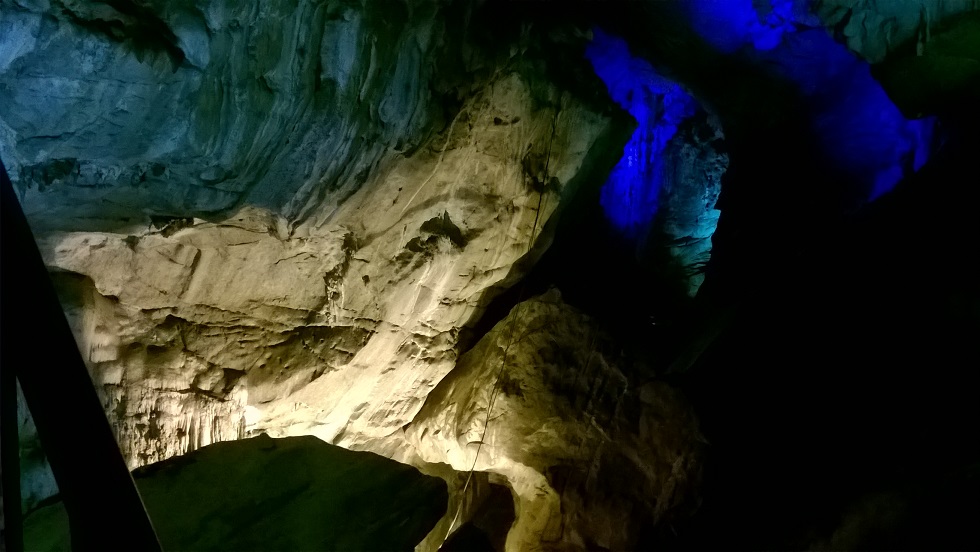 These caves are a gift from our mother nature and a wonderful sight. The main entrance of the cave is at 705 meters and the total length of Borra caves are around 200 meters.
Breathtaking hilly terrain, beautiful landscape with amazing flora and fauna makes this place a mist visit.
Do you know that you can go to Borra Caves from Araku Valley Railway stn by train. There is a station near Borra Caves as well. You can take Kirandul Train from Visakhapatnam to Borra Station.
Timings: 10:00 am – 5:00 pm , It takes around 3 hrs to explore the caves. Take a guide if possible.
Tickets : INR 40/- for adults; INR 30/- for kids; INR 25/- for camera
Tribal Museum Araku Valley
It is another popular tourist destination of Araku Valley and is very near to Araku Bus Stand ( around 200 meters from bus stand). It is one the best places to visit to explore culture and tradition of tribals from eastern ghats.
This museum was established by Andhra Pradesh Tourism Development Corporation ine 1996. The purpose of the museum is to create awareness about tribal culture and their traditions . There are around 19 tribes which live in this region and this museum is one the best places to know more about them.
The museum has several clay monuments that depict their day-to-day activities. Various artifacts of the tribal people are displayed which includes
jewelry,
hunting tools
kitchen utensils.
The museum is well equipped with sign boards and a guide is also available. There is a small shop in the museum where handicrafts items of the tribes are sold.
Tribal Museum : 10 AM to 6 PM
Tribal Museum Entry Fee: Rs. 10 for Adults & Rs. 5 for Children
Padmapuram Gardens at Araku Valley
Padmapuram Gardens is a famous botanical garden located in Araku Valley. It is at a distance of 2.5 km from Araku bus station. It is one of the popular sightseeing places in Araku Valley.
The garden was built on a 26-acre plot in 1942 to supply the soldiers who served in World War II with vegetables. After the war, it was converted into a Horticultural Nursery cum Training Center where orchards, rare varieties of flowers and plants, tree houses and stone sculptures welcome the eye.
One of the best ways to see garden is via Araku Express toy train. This is popular with visitors. There are also tree top huts which can be booked. These tree top huts are a rare experience. There are varieties of trees, beautiful rose garden etc.
Entry Fee: Rs. 10 for Person
Timings: 9 AM to 6 PM
Chaparai Waterfalls in Araku Valley
Chaparai waterfalls in Araku valley is a well-known picnic spot. A scenic place with waterfalls and surrounding woodland makes people relax and enjoy their holidays.
Katiki Waterfalls at Araku Valley
This is a magnificient water falls situated near Borra caves. It is just 7 Kms from Borra caves and around 40 kms from Araku city center. Katiki is a village near by and hence the name Katiki Waterfalls.
It is formed by the Gosthani River which cascades down from a height of more tan 100 ft. This is a good place for trekking as well and you need to walk around 30mins from the bottom to reach at the Katiki Falls view point.
Araku Valley Address
Araku Valley Address:
Araku – Visakhapatnam Rd, Araku, Visakhapatnam, Andhra Pradesh, 531149, India
How to reach Araku Valley
The best way to reach Araku Valley is to go via Vishakapatanam.
Vishakapatanam is well connected to all major cities of the country. It is a major town in Andhra Pradesh and hence it has connected well by rail and air network.
So if you are coming by train or air, the first thing you need is to come to Vishakapatnam
From Vishakapatanam you can take car , cab or bus to Araku valley. Araku valley is around 3 hrs from Vishakapatanam.
Where to stay in Araku Valley
Araku valley is a well know tourist destination and hence there are lots of hotels and resorts where you can stay and spend a good time with family and friends.
How many day are needed to see Araku Valley.
If you have some time in hand , at least 2 days are needed. A one day trip is only suggested for people living near by like Vishakapatanam etc.
---
This place is of immense scenic beauty, Araku valley is a must visit tourist destination for all the nature lovers. Every part of the landscape is like a screen saver, the enchanting waterfalls, the amazing tribal culture, and the lush green forests makes this scenic hill station a place worth visit.
Have a happy journey ! Welcome to Araku Valley !
---
You may also like – Leepakshi Just Awesome!
You may also like: – 5 famous temple of Hyderabad