If you live in Karnataka and specifically in Bangalore, Chikmagalur must have crossed your mind many a times. Chikmagalur is one of the best weekend destinations from Bangalore.
So today I will take you from namma Bangalore to Chikmagalur and share my experience. This will be a 2 and Half day weekend itinerary inclding the travel time. I will also tell you, how you can save some travel time and enjoy your full day in Chikmaglur.
Quick facts about Chikmagalur
So let us look at the quick facts first:
Bangalore to chikmagalur distance
Approx 240 Kms
Time taken from Bangalore
Approx 5 hours with short breaks.
Around 6 to 7 hrs with some long breaks for lunch etc
Road Conditions
Very good throughout ( NH 75 )
Food options
Many on the way
Stay
Many good hotels with in city. You can also book some good home stays or resorts.
Famous for
Nice view points. Highest peak in Karnataka – Muliyangiri peak,
Nice water falls, Lakes, and a must visit Lord Ram temple called as Kondanrama Temple
Places to visit in Chikmagalur
This place offers a lot. It depends what you want to do there.
Resorts in chikmagalur – If you just want to relax in the lap of nature, you can book some nice resort and spend some quality time with your family and friends.
You can take a jungle walk or do some off-roading. All these experiences are provided by resorts ( though may be charged separately).
Homestay in chikmagalur – You can also may be book a home stay and just stroll around the city visiting some key tourist spots and enjoy the Chikmaglur Coffee.
Chikmglur is famous for coffee estates and visiting the Coffee Museum is one of the cool experiences in the city.
Apart from Home Stays and Resorts, hotels in Chikmaglur is also best option if you want to be in city. But first lets look at the list of places to visit in Chikamagalur.
Chikamagalur Tourist Places
There are many places in and around the city, but below is the list of spots which you may consider to cover. I will give you the itinerary which I have followed and with just 2 days in hand it is difficult to cover all the places. But you can if you have more time on hand.
Top 15 tourist places in Chikmagalur ( 30 Kms range )
Mullayangiri ( Tallest peak in Karnataka – around 25 kms from city center)
Seethalayana Mata temple ( famous goddess temple, just 5 kms before Mullayangiri)
Honamanna Falls & Jhari falls ( also called as Butter Milk Falls ) – A nice water fall ( last 5 kms will be on a Jeep ride, you cannot take you car till the falls)
Baba Budan Giri peeth ( around 33 Kms from city center)
Z point ( Must visit view point a couple of Kms from Baba Budan giri)
NirvanaSwamy Mata
Devi Ramma Temple
Coffee Measeum ( A must for coffe lovers)
Hirekolale Lake ( 4 kms from city center – A nice lake with nice view point around)
Ayyankere Lake ( around 20 Kms from center – 2nd largest lake of Karnataka )
Kondanrama temple at Hiremaglur ( 8 kms from center, A must visit Lord Rama temple)
Belvadi Hoysala temples ( 30 Kms from Center)
Belur Hoysala Temples ( 23 kms from city center)
Halebidu Hoysal Temples ( 35 Kms from city center)
Yagachi Dam and Water Sports ( 20 Kms from city center)
Other tourist attractions around Chikmagalur
As I have mentioned before, Chikamagalur has lots to offer to its tourist and there are many other tourist spots which you can plan to visit if you have more time on hand. But these are a bit far from the city center so you need to plan accordingly. These were not part of my itineary.
Muthodi forest – around 40 kms from city center
Hebbe falls – A nice water falls around 60kms from city
Kalhatti Falls – A nice water fall at around 55 ksm from city
Horanadu & Kalasa ( around 110 kms from chikmaglur)
Sringeri the famous temple ( around 100 Kms)
Dharamsthala – must visit temple town – 90 kms
You can also plan to go to Mangalore from here which is approx 150 kms from here. So in case you have a week in hand you can actually plan this trip :
Bangalore -> Hassan -> Chikmaglur -> Mangalore
How to reach Chikmagalur
Bangalore to chikmagalur distance is approx 240 kms if you go by shortest route.
There are 3 routes which you can take to reach Chikmaglur
Go via NH 75 , you need to take a left on Bangalore Mangalore Highway from Neelamangala. The road takes you straight to Hassan and from there you need to take a turn towards Chikmaglur. This is the shortest way and will be around 240 Kms
The second way is to go via Tumkur and Chitradurga. This is via NH 48 and will be around 300 Kms. You can take this route only if you want to visit Chitradurga on the way. Being NH this route is also very good.
The third rout is via Mysore toad and this I will not recommend as there is a heavy traffic on this road on weekend with lots of people heading to Mysore.
So the first route is best. It is shortest. No much traffic and nice road all along the way with many nice food options through out.
Bangalore to Chikmagalur – 2 Day itinerary
So below is the itinerary which we followed and we instead of taking 2 days, took two and half days instead. That is instead of leaving on Saturday morning, we left by 3.00 PM on Friday. Anticipating a 6 hour drive, we expected to reach by 9.00 PM and check into the hotel.
Which actually went as per plan. We left Bangalore by 3.00 PM and reached hotel by 8.30 PM.
Now this is one suggestion from my side. If you want to stay in a hotel, better to choose one which is near KSRTC bus stand.
Day 1 itinerary
8.30 AM – Have breakfast and leave hotel. Our first stop was Mullayangiri peak.
9.15 AM – Reach Mullayangiri parking lot. Start climbing. Around 450 steps to reach peak. Will take minimum 30 mins.
9.45 AM – Reach the Mullayangiri peak. You will need a minimum of 30 mins there. Visit the small Shiva temple and enjoy the nice view around
10.15 AM – start back to parking lot.
10.45 AM – Reach back to parking lot and head towards next stop. So total of 1 hour and 30 mins climbing up and down.
11.00 AM – while coming back, stop near Seethalayana Mata temple. This is a devi temple and you can spend some 10 to 15 mins here.
11.10 AM – start for the next spot which is Jhari falls also called as butter milk falls and on the way stop at Honnamanna falls for 10 mins
11.45 – Reach Jhari falls starting point , park the car and hire Jeep ( this may include some waiting time if the rush is heavy)
12.00 PM to 12.15 PM- Travel in Jeep to Jhari falls
12.15 PM to 1.15 PM – spent around an hour in Jhari falls and head back to parking. You need to get into Jeep
1.15 to 2.15 PM – Lunch. You need to figure out a place to eat.
2.15 to 2.45 PM – Travel to Baba Budangiri
2.45 to 3.00 PM- Visit the Baba Budangiri Cave
3.00 to 3.05 PM – Drive to Z point
3.05 PM to 3.45 PM – Climb up to Z point and spend some good time there
3.45 to 5.00 PM Drive back to town and Hirekolale Lake
5.00 PM to 6.00 PM – Spend time at Hirekolale Lake
6.00 PM – Get back to hotel, rest for some time and get out in the city. Stroll around the city and have some nice dinner outside.
Day 2 itinerary
On Day 2 we had planned to visit Belvadi, Halebedu , Belur and Yagachi dam and return back to Bangalore. Travel back to Bangalore will take approx 6 hours so we had planned to leave for Bangalore by 3.00 PM at-least. And hence we have to start early.
So, we decided not to have the break fast at hotel and check out early. We checked out by 7.00 AM
7.00 AM to 7.10 AM – travel to Kodandarama temple
7.10 AM to 7.30 AM – Pay darshan to Lord Rama at this ancient temple
7.30 AM to 8.00 AM – Travel to Belvadi
8.00 AM to 8.30 AM – Visit Belvadi temples. There are 2 temples, each will not take more that 15 mins
8.30 to 8.50 AM – Travel to Halebidu.
8.50 AM to 9.20 – Visit Halebidu Hoysala temple
9.20 AM to 10.00 AM – Find a good restaurant and have some nice breakfast
10.00 AM to 10.45 AM – Travel to Yagachi Dam and Yagachi Water Adventure Sports Center
10.45 AM to 12.00 PM – Spend some good time at Yagachi Dam and enjoy some nice water sports at Yagachi Water Adventure Sports Center
12.00 PM to 12.30 PM – Travel to Belur
12.30 PM to 1.15 PM – Spend some good time at the famous Channeksava temple at Belur.
1.15 PM to 2.30 PM – Lunch at Belur
2.30 PM – Head back to Bengaluru
So this was our itinerary for 2 and half days. If you see from my list of Chikamagalur Tourist Places, I was not able to cover all of them. But the itinerary I followed was the best I could in this limited time.
If I had one day more in hand, there are a lot of other places, I could have covered.
Below are some details about the spots which I visited.
Mullayana Giri Peak
This is the highest peak in Karnatka and one of then most visited and must visit tourist spots in Chikmagalur. The road leading to the parking lot of this peak is good. It is a concrete road. Only at some places the road becomes a bit narrow and becomes difficult for 2 large vehicles to pass.
But other wise the drive is ok. For an experienced driver, it will not be much issue.
The only challenge is if you visit during Monsoon, there is chances of slippery roads and landslides.
From the parking lot, there is a paved way to the top of the hill. These are around 450 steps which you have to climb up.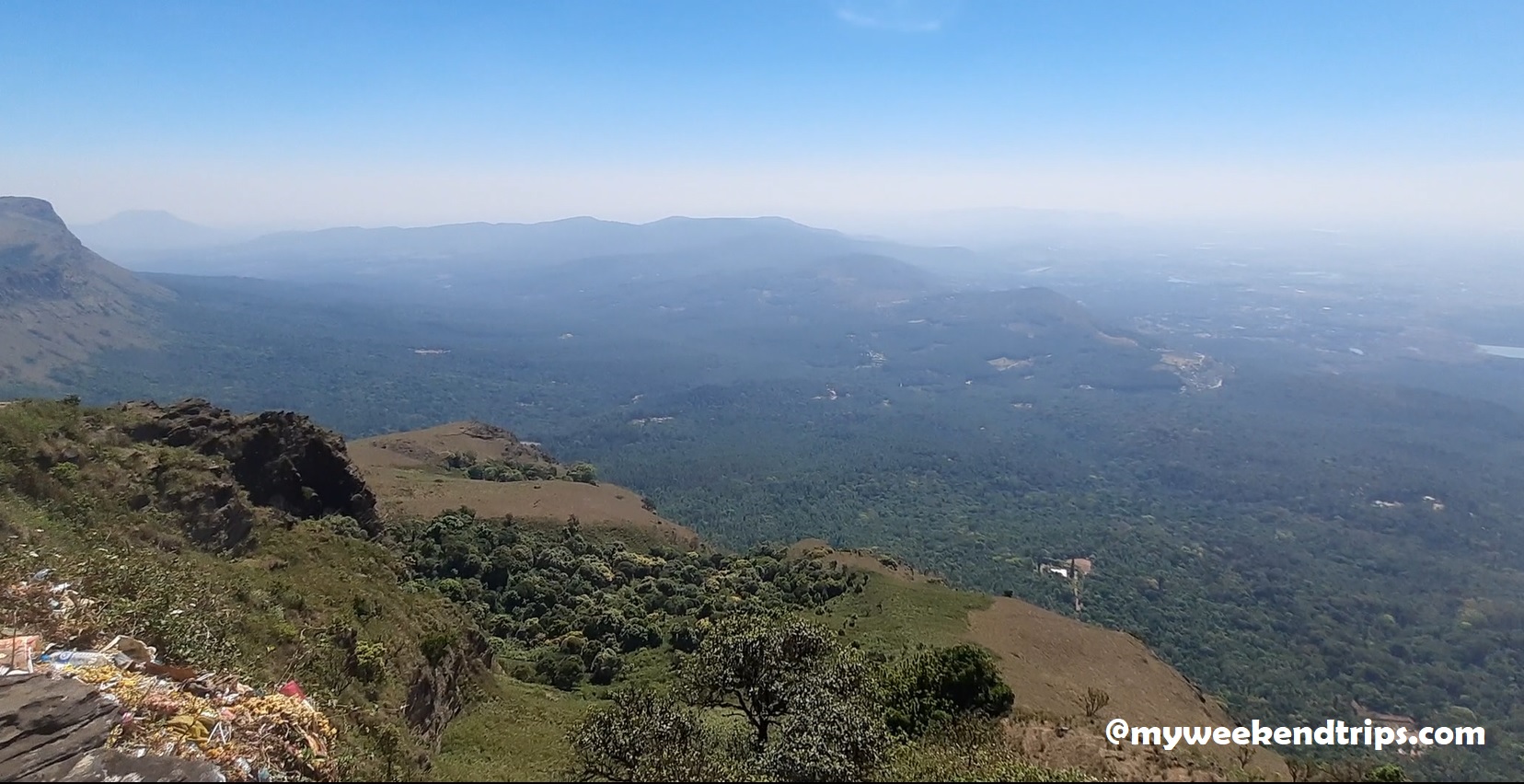 At the top of the hill is a small Lord Shiva temple. The view from top is amazing. Just after monsoon the beauty of this place is such that it cannot be described in words.
Seethalayana Mata temple
This is a small but very beautiful Seethalayana Mata temple. You can visit this temple on the way to Mullayangiri.
So you can either visit this temple while going up to Mullayana Giri Peak or while returning back. There is ample parking space and wash room facilities.
Honnamanna falls & Jhari Falls ( Butter Milk Falls)
After Mulayangir peak and Seethalayana Mata temple you can go to Jhari falls. Honnamanna falls is on the way.
Honnamanna falls is a very small but a beautiful water fall just on the main road. So you do not have to walk a lot to reach at the falls. In monsoon this fall looks very beautiful.
As you can see in the photograph, a proper steps are mad to let water fall through them. Quite safe to go near the water. There are some stalls near by selling some good bhajji and tea. So while going to Jhari falls you stop here.
After Honnamanna falls the move to Jhari falls entry point. Jhari falls cannot be accessed by your own vehicle. So you have to park near the entry point and hire a Jeep to reach till falls.
The Jeep if you book full will cost you 700/- for round trip. You can also go solo ie. the Jeep is shared with other tourist. The cost is generally Rs 150/- per person. But in that case you need to wait till the Jeep is full ( 5 people).
The Jeep guy will give you a token. So once you reach the Jhari falls, the Jeep guy will go and while coming back you need to show the token to the returning Jeep. So the Jeep will be different when you return.
Also since the token is per Jeep if you are going in sharing, you need to make sure that all of you come back at the same time.
The off-roading experience till the Jhari falls is amazing. The fall itself is worth a visit.
The water falls from a height and you are allowed to go inside the falling water and enjoy some cool water spring. You can go and bath there. It is a nice experience. This water fall is a must visit.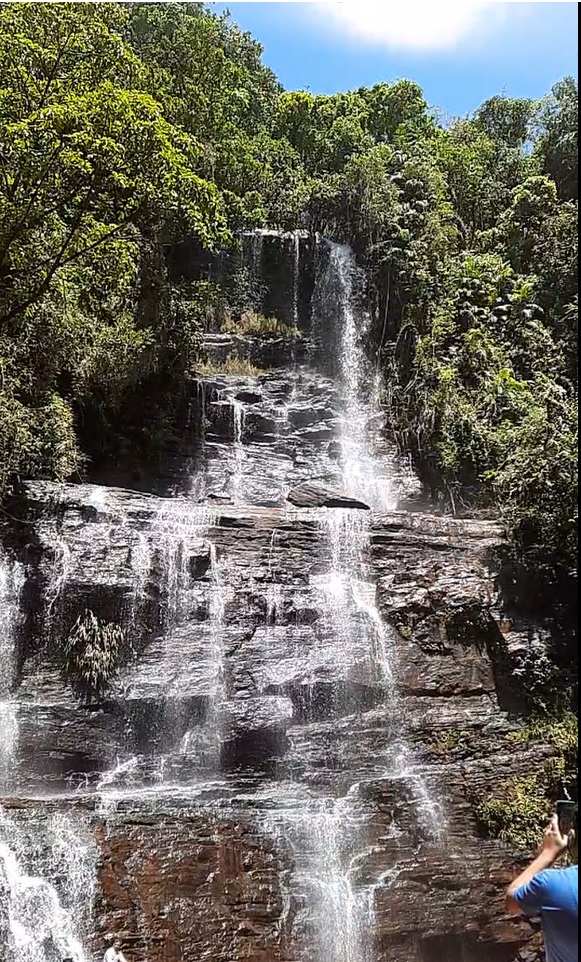 Baba Budan Giri
This is a small cave temple dedicated to Baba Budan. The area around this temple offer a nice view point and immediately around a kilometer from this place is Z Point which offers one of the most amazing view of western ghats.
Baba Budan giri hill range is at 1895  meter and which is more or less same as Mullayangiri peak.
Mullayangiri peak is at 1930 meters. So you can say that both of these hill ranges have the highest peak in Karnataka.
Z Point – view point
Z Point view point is around 1 Kilo meter from Baba Budan Giri temple and offers a amazing view , as I said before of the western ghats.
Once you park the car at the parking lot, you will see 2 peaks. One near the parking lot and other a bit far. You need to the next one which is highest peak there and the Z Point view point is located on the top of this peak.
To go there either you can just take the small route around the fist peak and go to the second peak which has the view point or you can also climb the first peak first and enjoy some tome there and move to the next peak.
This is going to be one of the most amazing experience and if you visit in monsoon or after monsoon you will not want to come back from this place. It is so beautiful and the mist around adds to its beauty.
Hirekolale Lake
This is one the largest lake in Karnataka and offers some good time to its visitors. This is a man made lake and offers a beautiful view of the surroundings. This lake was built to provide the drinking and irrigation water to Chikmaglur and its surrounding areas.
In a way this whole area is photographers paradise, but Hirekolale Lake lake offers some very nice photography options.
Kodandarama temple at Hiremaglur
This is one of the ancient Rama temples in India and one of the must visit Rama temples. The temple itself is more than 1200 years old, but the Lord Rama and Ma Sita idol is from the time of satyuga.
It is said that Lord Rama gave darshan to Lord Parsurama at this place and it is only temple where Ma Sita is at the right hand side of Lord Rama.
Part of this temple was constructed during Chola dynasty while other parts during Hoysala dynasty. So in a way you can see that the temple has architecture signatures of both the dynasties.
It is a very nice temple and must visit if you are in Chikmagalur. The temple itself is not very far from city center and what I would recommend is to get up early and visit the temple during any of the days of your stay there.
Belvadi Temples
Belvadi is a village around 30 Kms from Chikmagalur. This place has one of the finest temples built during Hoysala empire.
It is said that Bheema from Mahabharat times killed Bkasura at this place. Well there is another place in Karnataka called as Kaivara and it also has the same legend. But anyway this place finds its mention in Mahabharata as Ekachakranagara .
The temple name is Shri Veera Narayana temple and was built during Hoysala dynasty. The temple is one of the finest temples of Hoysala times.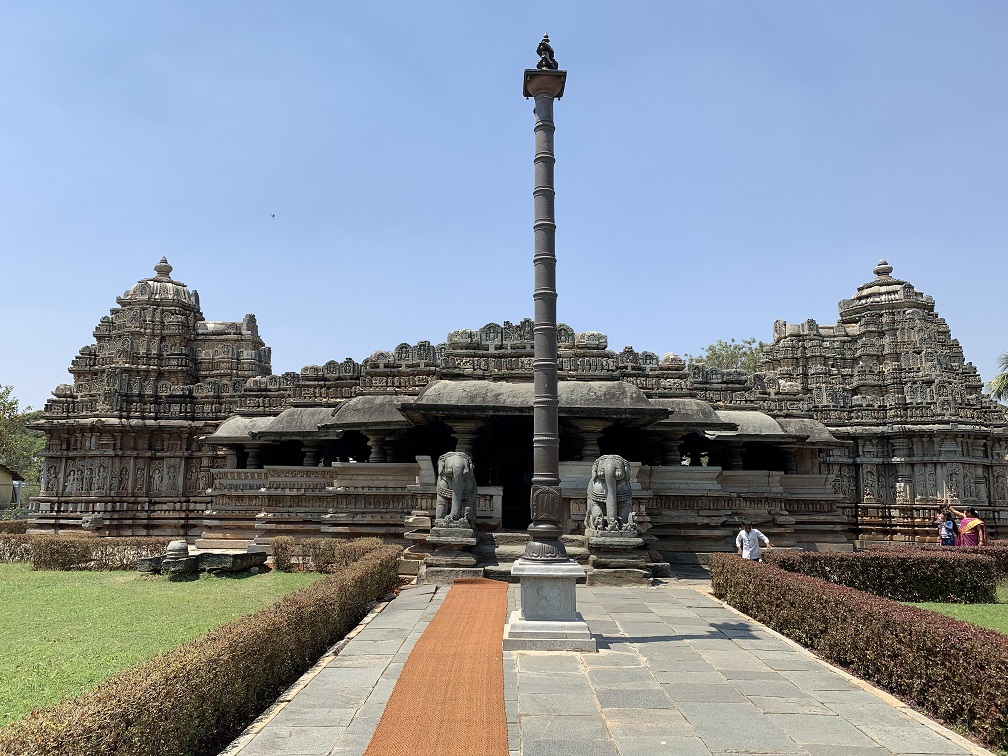 There is another temple called as Udhbhava Ganpati temple and this temple is also very near to Shri Veera Narayana temple . The idol of Lord Ganaesha is said to Swyambhu and is growing.
So this is also an amazing place to visit and this place is very near to halebidu and belur.
Halebidu Temples
Halebidu is famous for Hoysaleswara Temple. This temple again is one of the most popular temples of Hoysala times.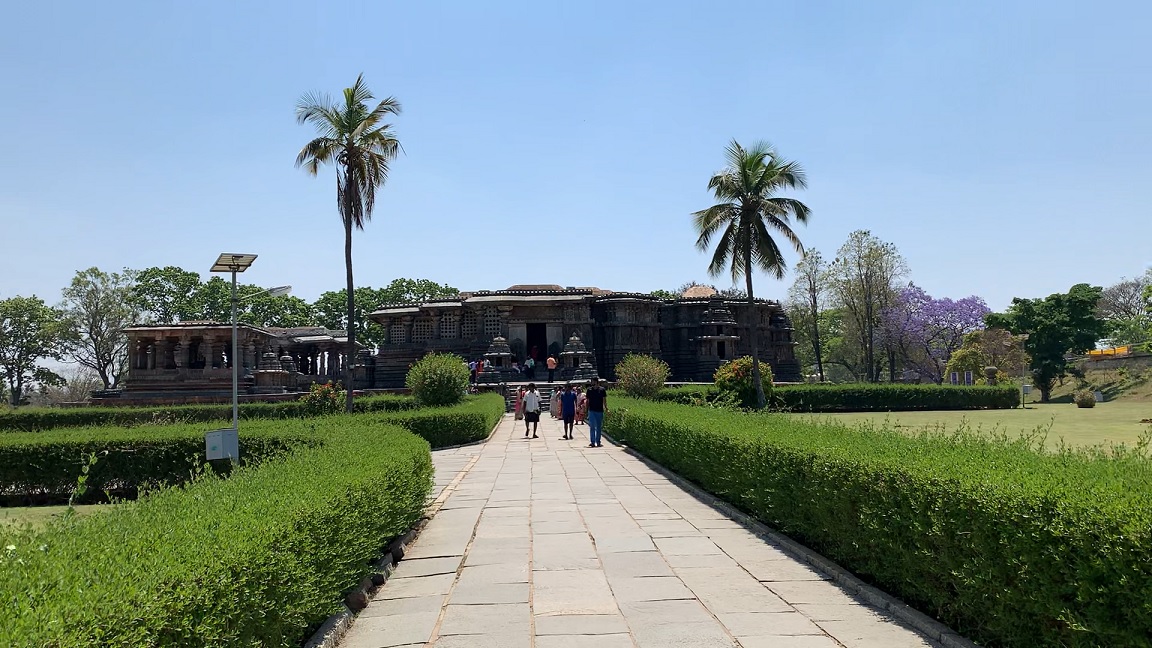 Halebidu is said to be the capital of Hoysala empire. This is a 12th century temple and is dedicated to Lord Shiva. There is a large man made lake next to the temple. The temple was built by the king Vishnuvardhana of Hoysala empire.
Yagchi Dam & Water Sports
In between Halebidu and Belur, you can visit Yagchi Dam. It is built on river Yagchi a tributary to river Kaveri.
Yagchi dam is a popular tourist destinations in the region. It attracts tourist as it also offer some nice water sports options. You can do some cool water sports there like Jetski, Speed Boat, Banana ride and Kayaking.
You can book these activities online like at thrillophilia.
The surrounding of the dam is as beautiful as the dam itself.
It will be a nice place to visit with kids. They will definitely enjoy a lot.
Belur Temples
And one of the most important temples of the region and of Hoysala times is the Chennakeshava Temple, also referred to as Keshava, Kesava or Vijayanarayana Temple.
It is a huge temple premises built during 12th century at the times of Hoysala empire and a must visit temples in India.
It is said that the temple took more than 100 years to build and almost 3 generations of kings. It was started by the king Vishnuvardhana in 1117 CE.
This is one of the finest examples of temple architecture of Hoysala dynasty and South Indian temple architecture.
Where to Stay in Chikmagalur
Chikmagalur has lot of options to stay there. It all depends on what you want to do. Below are some options to choose from
Chikmagalur Resorts
I will recommend booking a hotel if you are there to enjoys some good time in the lap of nature and relax for a couple of days.
Generally these resorts are in Jungle or Coffee estates and offers some good packages on activities like nature walk or off roading experiences. Coffee estate visits etc.
Hence if you are looking for this kind of experience resorts can be the best option.
Chikmagalur Home Stays
I would recommend this if you are travelling with small kids. As home stays offers homely food also many home stays or service apartments have attached kitchen which will help you to lets say boil milk or make some upma, poha , maggi etc for kids as kids kids are not able to eat well outside.
Home stays are also recommended for a long stay like if you are staying for more that 2 – 3 days.
Chikmagalur Hotels
Chikmagalur have tons of options for hotels in all budgets. My recommendation is that you stay near the KSRTC bus stand.
One thing is that if you are not travelling by your own car, being in the city center offers you a good connectivity.
Local Sight seeing cabs at Chikmagalur
Just next to KSRTC bus stand you will find a taxi stand. There you can go and negotiate for a day sight seeing.
Indica / or other hatchback will generally cost you 1300 to 1500 / – and they will take you to 6 to 7 spots.
A sedan like dezire or any other will cost somewhere between 1500 to 1700 / –
A big car like Ertiga will cost around 2000/- to 2500/-
So i think this can also be a good option if you are thinking to book a cab for local sigh seeing.
You can still negotiate the price. And also you can book the cab for near by areas like Yagchi Dam, Bevadi, Belur, Halebidu etc.
So lot of options. With in city attractions you can also take Auto.
Remember one thing. Carry cash as most of these guys prefer cash transactions.
---
You may also like : Manadangiri Hills