Looking for a quick weekend getaway from Bangalore. Chunchi Falls, A nice water falls near Bangalore after Kanakupra can be a very good options. This place is an amazing visit specially during monsoons. Summer is approaching but there is still water left in the falls which still makes it an interesting option to visit.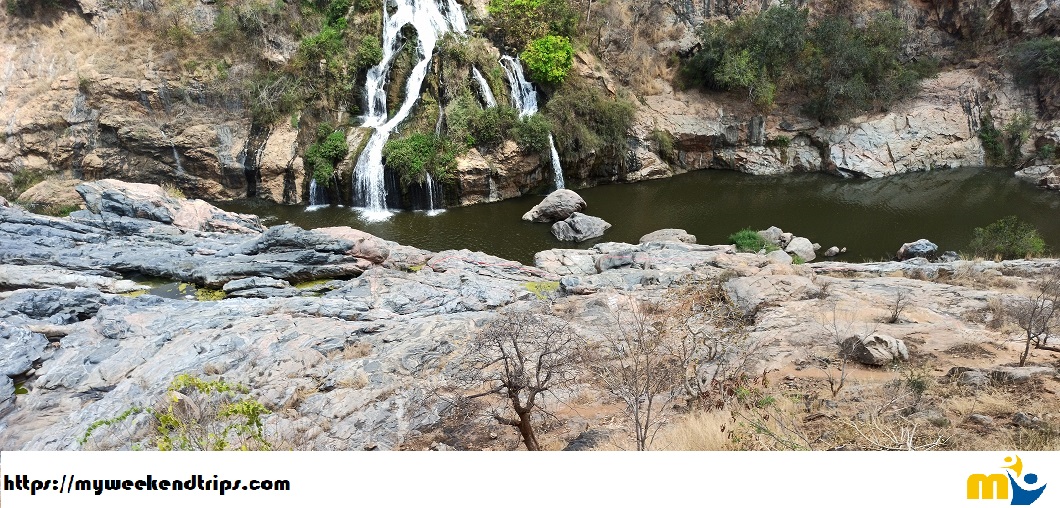 ---
Love trekking, you can also try Hulukudi Betta
---
How far is Chunchi Falls from Bangalore
With around 2 – 3 hrs of drive, around 90 Kms from Bangalore, a ride to this place is bikers paradise and treeking to the falls gives you a good exercise.
What more this place destination can be covered with other 2 places around ie. Sangama and Mekedatu. But you will be able to club all these together only if you start your day early.
---
What makes Chunchi Falls a cool visit
A trip to Chunchi Falls is bikers paradise. But that dosen't mean that is is only for bikers gang. It is a ideal trip with family and friends for a good one day picnic trip.
When you drive through, the hills, you feel the fresh air and beautiful nature all around you. In rainy season or after mansoon, this places becomes a perfect photo spot. Every place on the route is so good that it can become a perfect background photo for your computer screen.
Another interesting thing which I would like to mention is that this place is not only good in mansoon or after mansoons, but this place is also a great drive during falls i.e during feb / March. What happens is that during this time you will see that the trees shed their leave and when you cross the jungle you see all the trees standing there, with out a single leave, the whole jungle looks awesome and if you go again during rains, you will see the difference and appreciate the difference.
---
How to reach Chunchi Falls?
My suggestion is to start early. It depends on which part of bangalore you are driving from. If are starting from Sarjapura, Whitefield or electronics city, google may suggest you a route which goes via Anekal. The road goes through a jungle where roads are not in a very good condition.
I strongly suggest you follow below route.
Bangalore – > Kanakpura – > Chunchi falls
The best route is to take Nice Road, exit on Kanapura Road and then the route is just straight. Keep on going on Kanakpura road and one you cross Kanakpura keep going towards Sangama, you will come across a check post where you need to pay Rs 30 as entry fee. Remember this is only entry fee.
Immediately after crossing this check post, you will see a road going left. You need to take that road. If you go straight you will go to Sangama.
Once you take this left road, keep going straight for almost 12 kms and you will reach the parking lot of Chunchi Falls. You need to pay Rs30 parking fee here.
So in total you need to pay Rs 60.
From parking you need to walk for almost half a km to reach near falls.
The last 200 ms of walk is a bit difficult and its deep down to the falls and again climbing up can be challenge. Specially for old people.
If you reach there very late lets say around 11 or 12.00 noon, it will too hot So be a bit careful. There are some small shops you will see while you walk where you can buy water , cold drink etc.
Remember it is a no plastic zone .. so dispose all plastic cover bottle etc in the box provided at those shops only.
Once you reach at the spot from where you can view the falls, the view is just amazing. You can hear the roar of water falling down and the rock bed, if you look down, you will find it in rainbow color. It's just amazing.
You also need to be carefull. I could see some people very near to fall, taking bath. I understand that to go there you need to take a different route. We did not go there as it looked to risky.
But the whole area is a good trekking spot. You will find families having picnic fun. You can also make lunch from home, come here here and spend some quality time.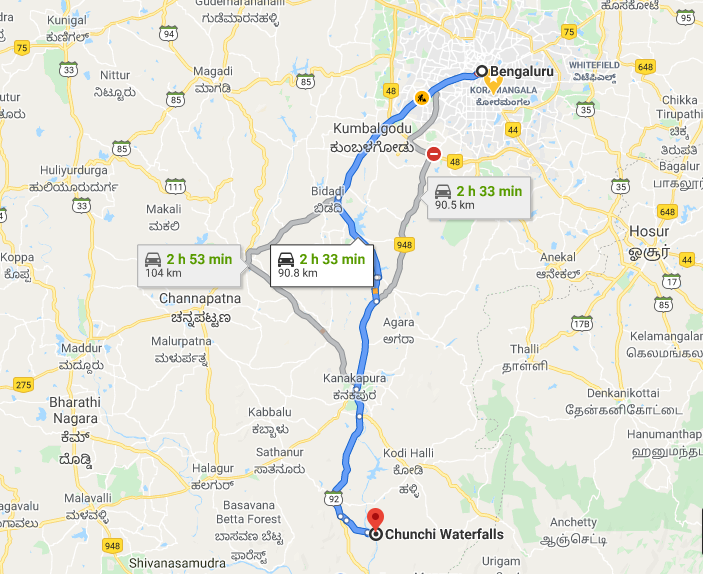 So guys, what are you doing this weekend. Go ahead and have fun!
//kumar