Kanpur, one of the famous industrial town of Uttar Pradesh and India has also been known for it high quality educational institutes like IIT Kanpur, HBTI etc. Kanpur, situated in the banks of river Ganga, has a huge industrial belt. It has been quite famous for textile mills and leather industry. But it also have many other small and medium scale industries located here. Being situated very near to the capital Lucknow, this is an important town in Uttar Pradesh. But Kanpur also has many interesting tourist places to visit if you are in town and this includes many religious places, zoos, parks etc. Let us look at some important tourist places of Kanpur which should be on your list if you are visiting the city. So friends let us look at top 10 Kanpur tourist places.
Kanpur Zoological Park or Allen Forest Zoo – #1
One of the best places to visit in Kanpur, the Kanpur Zoological Park also called as Allen Forest Zoo, also called the Kanpur Zoo is spread across approx 75 to 80 acres. It is the largest zoological park in North of India and it has its own natural flora and fauna. Today it is probably the largest open green space in Kanpur.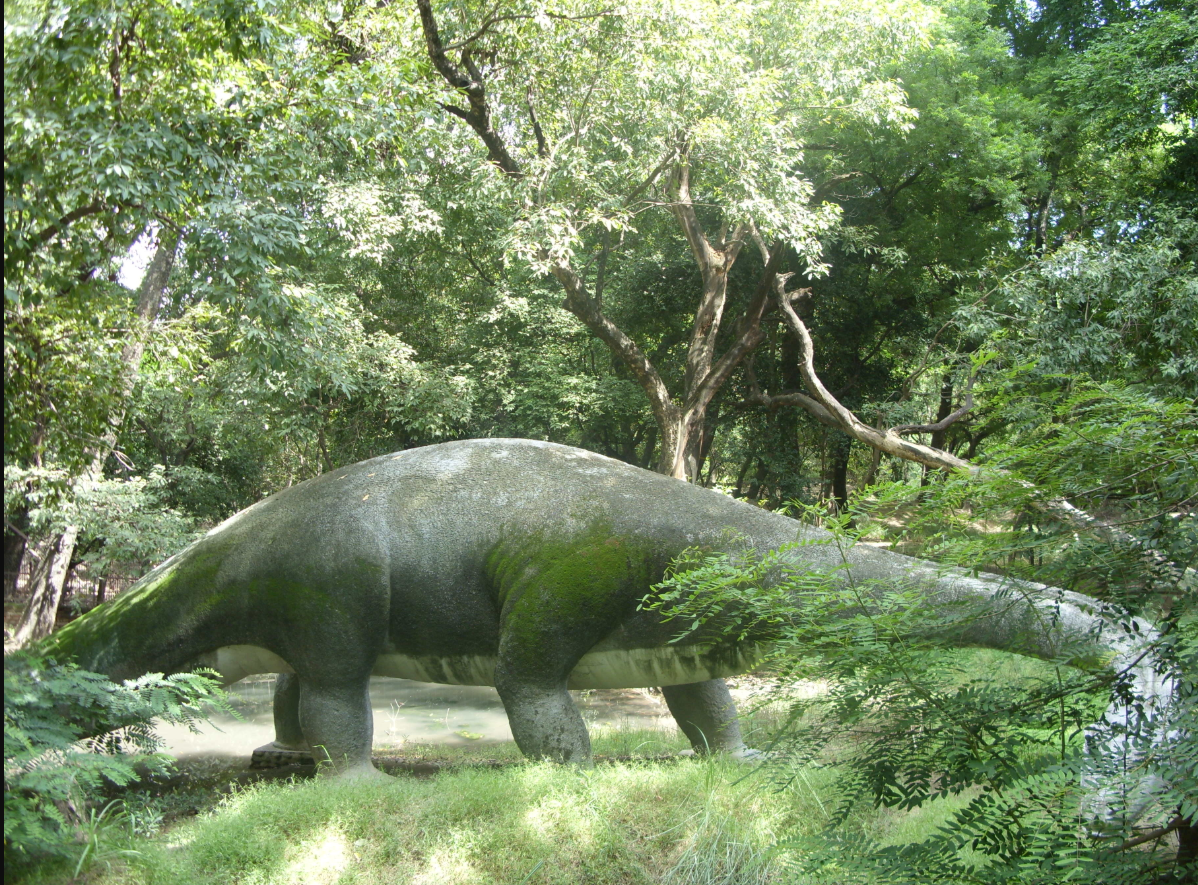 Kanpur Zoological Park is home to many wildlife species which includes
white tigers,
leopards,
black bears,
grizzly bears,
sloths,
zebras
, rhinoceros,
hippopotamus
reptiles such as snakes.
Full of green space, this park also features a natural lake, ancient trees and real life models of dinosaurs. Kids are going to love this park and the zoo a lot.
It is said that there are more than 1000 animals in the zoo which is a big attraction for kids and every one.
Address of Kanpur Zoological Park
Hastings Avenue, Aazad Nagar, Nawabganj, Kanpur, Uttar Pradesh, India – 208002
How to reach Kanpur Zoological Park
Situated on Hasting Avenue in Azad Nagar, the Kanpur Zoological Park is about 10 km from the Kanpur city centre. From kanpur city center, it is approximately 30 mins drive.
Also the zoo is around 11 Kms from both Interstate Bus depot and Railway station and again it will take around 30 mins to reach there
The Kanpur Airport is around 32 to 40 km from the park and it would take around 40 minutes to drive to the park.
Best time to visit Kanpur Zoo is October to Feb when the weather is cold. During summer walking may become difficult. Some points to note
Beware of the monkeys as they roam freely inside the zoo
Electric cars are available on charge
Entry fees : Ticket for entry in the zoo is ₹30 for adults and ₹15 for 5 to 12 age group
The toy train costs ₹50 for adults and ₹25 for 5 to 12 age group.
Sulabh sauchalayas are available
Plastic bags are strictly banned inside of the zoo, and cold water is available inside the zoo. Also there are small canteens selling snacks
For those interested in burning calories, the park is huge for a brisk walk or stroll.
Parking: If you are travelling by your own vehicle, there is ample parking space in the front of the zoo.
The zoo is quite big and this zoological park is awesome. You may miss few places when you visit first time. Do check at the counter if they have any printed guide book.
Our suggestion is to visit this place early so that you have full day in hand
And finally a request to be responsible while you are there and do not litter. Maintain the cleanliness. It is responsibility of everyone of us.
---
Blue World Theme Park – #2
Blue World Theme Park is one of the biggest theme park and is located at Mandhana- Bithoor Road. The park is around 2 km on the G.T. road. This theme park is spread over 25 acres. It has over . Second in my list of Kanpur tourist places , this is a must visit if you are in town.
30 rides including dry rides,water rides,
9D Theatre,
Dinosaur Villa
India's biggest private musical fountain cum laser show
This theme Park is one of the best places to visit in Kanpur at it's a perfect picnic spot for the entire family and friends. BlueWorld accompanies exceptionally structured and well planned, aesthetically illuminated restaurants ,rides , theming and much more.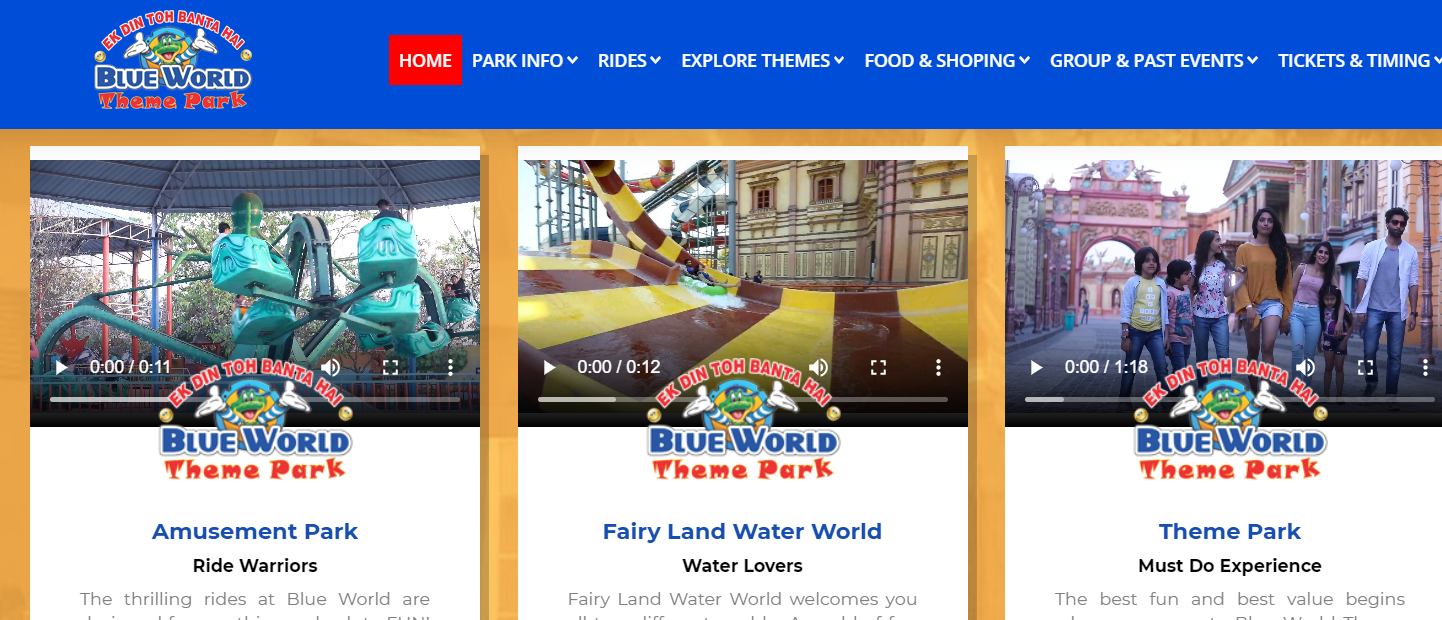 Timings and Entry Fee
Free entry for individuals below 90cm of height. Individuals celebrating their birthdays are also allowed free entry. The entry fee is separate for the Water Park and the Amusement Park.
Full Ticket (height above 110 cm)
Monday to Friday – INR 600
Saturday and Sunday – INR 700
Package Cost (Amusement Park + Water Park)
Monday to Friday – INR 750
Saturday and Sunday – 850
Half Ticket (height between 90 and 110 cm)
Monday to Friday – INR 300
Saturday and Sunday – INR 350
Package Cost (Amusement Park + Water Park)
Monday to Friday – INR 400
Saturday and Sunday – INR 450
Timings – Blue World Theme Park
Dry Ride Timings 10:30 am to 6:30 pm
Water World Timings 10:30 am to 5:30 pm
Music Fountain & Laser Show After Sunset
Boating, Chairlift, Skydive Will Closed at 6:30 pm
Rides at Blue World Theme Park
Kids Zone
Family Rides
Flying Chopper
Jingle Bells train
Quack Quack Ride
Toon Tango
Hopping Frog
Cup Saucer, and
Merry-go-round
Swing Chair
Dancing Violin
Polipo Octopus
Tele combat
Columbus
Amphido Eye
Striking Cars
Blue Typhoon
Mono Rail, and
Boating
Other Attractions at Blue World Theme Park
7D show – Explore the land of fantasy and imagination
Journey to Space – A planetarium that shows stars and galaxies
Suhana Safar – It is a boat journey in a river traversing the site. This small expedition introduces individuals to the eastern cultural history of Durga Pooja and the Independence Movement while paying tribute to some of the greatest leaders.
Thrill Rides
The Roller Coaster and Twin Flip 360 m
Chair Lift – 40 to 60 feet above ground level and 1000 feet wide provides a nice Arial view of the park
Fairy Land Water World contains all the adventurous sports played underwater like:

Magic Bowl
Spider Ride
Family Raft Ride
Typhoon Tunnel
Water Ride
Master Blaster
Wave Pool
Rain Dance
Splash Out, and
Wave Runner
Tiny Tots Zone for kids in the water.
In-built waterfall with artificial mountains
Themes of the Blue World Theme Park
The European theme – Mimics the London Streets with typical architecture, street lamps and buildings that interplay with the imagination and it feels as though visitors are in London.
The Fairy Land theme – It has been designed to vivify the childhood tales of fantastical lands with unicorns, mermaids and talking dolphins. The arena is lit with half-pods glittering with golden light to snatch a bit of reality from you.
The Chinese theme – This theme plays on dragon bridges that are built over water straight away from archaic tales, and the restaurants promise a fusion of Indo-Chinese meals.
The Jungle theme – It is muddled with statues of lions, giraffes and orangutans. The children can tame the artificial lions mounted on hills by sitting on their backs. The structures have been created in an almost life-like way to resemble the woods.
The Mayan and Egyptian theme – This theme hosts Egyptian sculptures stacked one above the other for a diverse experience. There are pillars mimicking ancient Mayan architecture with a circular pathway to walk in.
The Indian theme – Adapting to the principles of India – Unity in Diversity, the architectural variety here is plotted along the path with perpendicular structures with carvings on them.
How To Reach Blue World Theme Park
Situated at around 25 kms from Kanpur, takes around 30 to 45 minutes to reach. Private taxis, tempos etc are available from the city.
Buses are available from Kalyanpur or Mandhana. Also tempo services available from there to the park. The park is 22 km away from the Kanpur Railway station and 28 km away from the airport. Connectivity to the park is very good.
Address of Blue World Theme Park :
Mandhana-Bithoor Road, Kanpur Uttar Pradesh – 209217
---
Moti Jheel – #3
Another one of my list items for Kanpur Famous places is Moti Jheel, situated in the Benajhabar locality of Kanpur, it is a large lake and a drinking water reservoir. It is a important tourist attraction of Kanpur. Kanpur was one known as "Manchester of the East " and this park was built during British Era. It has large gardens and childerns park and hence very popular among visitors.
There is no entry fee at Moti Jheel
Moti Jheel is open from 5:00 am – 9:00 pm , Monday to Friday
Moti Jheel Kanpur Address: Harsh Nagar, Kanpur, Uttar Pradesh, 208001, India
Moti Jheel is one of the largest green enclosure in city and its major attraction is kids' park. The childrens park is a japnese style garden and has a very small entry fee. A nice one to spend some time
How To Reach Moti Jheel
Moti Jheel is located in the centre . It is on Harsh Nagar Road, about 3 to 4 km from the city centre. This attraction is about 13 to 17 km from Kanpur Airport, which can be reached in 30-minutes by car. The Kanpur Railway Station at Mirpur is approximately 6 to 8 km from Moti Jheel and can reached in 20 mins approx. Lots of options are available – car , cab, auto etc
The City Interstate Bus Station is approximately a 10 to 15 minute drive from Moti Jheel.
So Moti Jheel is connected to entire city buses and auto-rickshaws. Tourists can also take cabs to reach the spot.
---
Nana Rao Park – #4
One of the best in the list Kanpur tourist places , Nana Rao Park lso called as Company Bagh is a public city park in Kanpur,, built in honor of Nana Sahib. This park is built after the Indian Independence in honor of Nana Sahib. Prior to Indian Independence, the location was known as Memorial well. The park is a short drive from the Bithoor Ghats. The park has a statue of Rani Laxmi Bai, Tatya Tope, and Nana Saheb. The park is a perfect place to spend the day.
Address: Phool Bagh Chauraha, Mall Road, Phool Bagh, Civil Lines, Kanpur, Uttar Pradesh 208001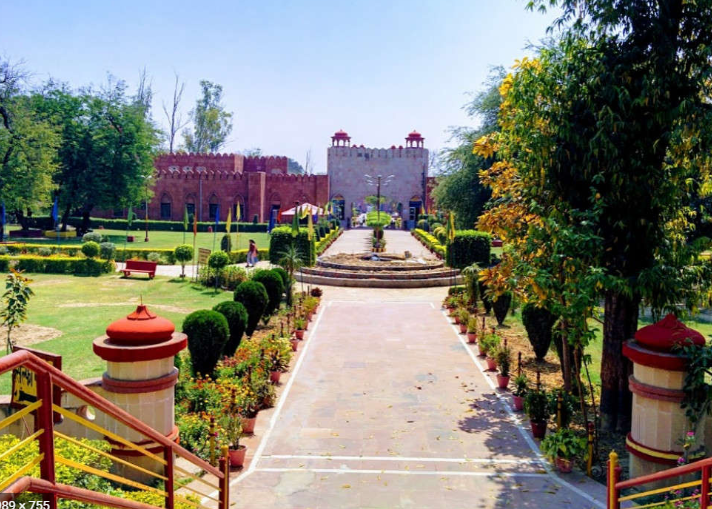 Nana Rao Smarak Park Kanpur Timings
Day Timing
Monday 5:00 am – 8:00 pm
Tuesday 5:00 am – 8:00 pm
Wedesday 5:00 am – 8:00 pm
Thursday 5:00 am – 8:00 pm
Friday 5:00 am – 8:00 pm
Saturday 5:00 am – 8:00 pm
Sunday 5:00 am – 8:00 pm
Nana Rao Smarak Park Entry Fee
The entry fee for Nana Rao Smarak Park is Rs 20 per person
How To Reach Nana Rao Park
Nana rao park is located at around 5.5 Kms from city center and it is a 15 to 20 mins drive. From Kanpur airport this place is around 10 Kms so it will take around 20 to 30 mins from there. From Kanpur railway station it is around 4 to 5 Kms and there are lots of auto rikshwas and taxis which can be used to reach there.
---
Phool Bagh – #5
Phool Bagh is also called as Ganesh Shankar Vidyarthi Udyan , earlier it was also known as Queen's Park, It has been an important part of Kanpur city from historical times. It was the location for many public meetings and political rallies in Kanpur from the early twentieth century.
The garden is well-planned and has an ingenious system of water ventilation that connected the underground palace with Chandan Katora, a bowl-like structure from whose fountains, droplets of water filtered through to the roof, simulating rainfall and keeping the complex cool. The Phool Bagh also hosts the Badgir Sawan Bhadon Towers, which were built to catch the wind and cool the place. The garden invites visitors both for its scenic and architectural merits.
The park has been landscaped quite beautifully. Beautiful landscaping gives a lush green look to the park. The park has seen many major political rallies earlier, but now park is not open for such big rallies or events. A 150 feet high mast Indian National Flag has been hoisted in 2017 by JCI Kanpur which adds glory and attraction to the park.
Phool Bagh is located in the center Kanpur and is close to Kanpur Central railway station, LIC Building and Nana Rao Park.
How to Reach Phool Bagh : The garden is about 3 km from the Kanpur Railway Station and can be reached in 10-minutes by taxi or car. The Kanpur Interstate Bus Station is also quite close to Phool Bagh. It is around 5 Kms and will not take more than 15 mins. Airport is around 10 to 12 Kms
---
Z Square Mall #6
Well one of the new Kanpur tourist places., is really a cool shopping mall. Z Square Mall is a shopping mall cum entertainment complex in Kanpur. The mall is spread on an area of five acres . Has 900,000 sqft. of built-up area . Located in the center of Kanpur city and has presence of more than 150 National & International brands.
Z Square Mall is open timings
Sun – Sun 11:00 AM – 11:00 PM
Mon – Sat 11:00 AM – 10:00 PM
Address: 16, 113, Mall Rd, Bada Chauraha, Downtown, Kanpur, Uttar Pradesh 208001
Location of Z Square Mall
The Mall is located on the Mall Road at Bada Chauraha Crossing. It is close to Kanpur Central railway station and Naveen Market and this makes it the busiest retail destination in Kanpur. It is located at a distance of 17 Kms from Chakeri Airport
---
Bithoor #7
Another picnic spot near Kanpur and one of the famous places to visit near kanpur is Bithoor.
Bithoor or Bithuris a small town near kanpur. It is around 24 kms from kanpur city center and is an important pilgrimage centre . Situated on the banks of river Ganga, as per Hindu mythology, it is considered to be the birth place of Lard Rma's son Luv and Kush.
---
Japani Garden #8
One of the best Kanpur tourist places, Japani Garden is one of the most important and most visited parks in Kanpur. It was build by a Japnese Architect and hence the name. It gets a lot of visitors through out the day.
This park is full of greeny and flowers. And hence lot of fragrance in the air. Walk , run , enjoy in the park. Kids love it.
Entry fee for the Japani garden
The entry is free.
The park is about 4 km away from the city center, You can visit this park for a leisurely walks in the middle of nature and appreciate its artfully manicured greenery, the Japanese-stye horticulture, the Feng Shui statues, and the lake with swan boats. You can easily spend 2 to 3 hours here.
Location of Japani Garden Kanpur
Harsh Nagar, Kanpur. Uttar Pradesh- 208002. open from 8 am to 6 pm every day.
The best time to go to the park is morning or evenings when the sun is mild and it is nice to walk. During day time it may become hot specially during summer season and if you are the one who does not like a lot of people around, avoid sundays.
---
Kanpur Measuem #9
Kanpur Measuem or Kanpur Sagrahlaya was built by the British as King Edward Memorial Hall, this museum is a trove of important articles that tells us about the wonderful past of the Kanpur City. You will find a number of exhibits here from the British colonial era, including handwritten books by freedom fighters, pistols, dresses, and thier other personal belongings.
Among the most treasured of all the collections of Kanpur Museum is an old colonial-era artillery gun.
Location of Kanpur Measuem
Located near Phool Bagh, Civil Lines, Kanpur. Uttar Pradesh- 208001.
Timings Of Kanpur Measuem
Tuesday to Sunday from 10:30 am to 4:30 pm.
Entry Fee for Kanpur Measuem
Adults- 15 rupees
Children below 12 years of age: Free
Journalists are allowed free
School groups : Rs 1 per person
Freedom fighters: free
Best Time to Visit: Visit early from 10: 30 am to 12: 30 pm when the rush is comparatively low.
---
Jungle Water Park #10
Jungle Water Park is one of the top amusement parks in Kanour Located in Chiran Gaon on Bithoor Road, this amusement park comprises of several pools and rides and is a fun for both kids and adults. With full of greenry the park is also a wonderful picnic spots for families.
Attractions in Jungle water park
Elephant slide
Musical park
Rain dance
Polipo octopus
Wave pool
Wave slides
Musical fountain
Funnel ride
Mist shower
Boating
Wave pool and Boating are quite a excitement among kids
Few points to note while visiting the jungle water park
Should be wearing only swimsuits or other synthetic garments for all water-based activities.
Payments to done at the entry counter. it is non-refundable.
Polythene bags and outside food is not allowed.
Littering the Park premises is punishable.
How To Reach Jungle Water Park
Located on Bitoor road, the Jungle Water Park is well connected by buses.
Board any bus and get down at Bhitoor road and walk for 2 minutes to the Jungle Water Park.
You can also take auto-rickshaw service or taxi or car
---
So those were my list of top 10 tourist places in Kanpur. But there are many other places of interest in Kanpur which you can think of visiting.
places in Kanpur. But there are many other places of interest in Kanpur which you can think of visiting.
Sports Village
Kamala Retreat
Valmiki Asharam
Mahatma Gandhi Park
Buddha Park
Green Park Cricket Stadium
Jajmau
Naveen Market
---
So friends hope you liked this list of top 10 Kanpur tourist places . Do visit them if you are in town and have some time in hand.