Friends if you are living in Bangalore you must have heard of the place called as Nagwara and Lumbini Gardens Bangalore located near Nagwara lake is a nice one day trip. Check out more details below.
About Lumbini Gardens Bangalore
Lumbini Gardens is a popular tourist attraction located in Bangalore. It is a serene, lush green park located on the banks of the Nagawara Lake, providing visitors with a perfect blend of natural beauty and recreational activities.
Spread over an area of 1.5 hectares, the park offers visitors a wide range of activities to choose from, including boating, biking, and dining.
Activities at Lumbini Gardens Bangalore
One of the major attractions of Lumbini Gardens is the boating facility it provides. Visitors can rent pedal boats, rowboats or motorboats to explore the beautiful Nagawara Lake.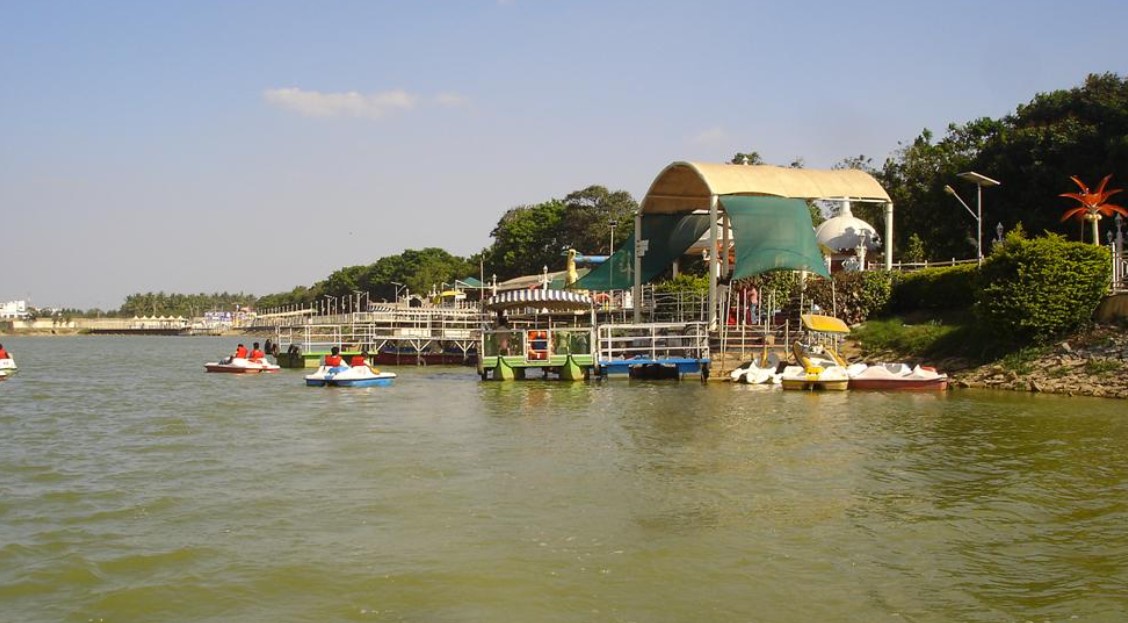 The boats are available at an affordable price and are a perfect way to spend a peaceful afternoon surrounded by nature.
The calm waters of the lake are perfect for boating, and visitors can enjoy a breathtaking view of the surrounding scenery.
The park also has a beautiful bike track, which is perfect for cycling enthusiasts.
The track is surrounded by greenery on all sides, and it provides a perfect escape from the hustle and bustle of the city.
The track is well-maintained and safe, making it an ideal place for a leisurely bike ride with family and friends.
Apart from these activities, Lumbini Gardens also has a range of restaurants and cafes where visitors can enjoy a delicious meal or snack.
From local cuisine to international delicacies, there is something for everyone at Lumbini Gardens.
You can also enjoy a cup of coffee or tea while enjoying the view of the lake and the park.
One of the highlights of Lumbini Gardens is the musical fountain show. The fountain show is a perfect way to end the day at the park.
The show is a stunning display of lights and music, and it is an experience that visitors of all ages will enjoy.
The show is held in the evenings and is a popular attraction among tourists and locals alike.
Lumbini Gardens also hosts a range of events throughout the year, including concerts, cultural festivals, and sports events.
These events are a great way for visitors to experience the local culture and traditions of Bangalore. The park is also a popular venue for corporate events and team-building activities.
The park is well-maintained and clean, and the staff is friendly and helpful. The entrance fee is affordable, and the park is easily accessible by public transport.
The park is open every day from 11 am to 7 pm, making it an ideal place for a day outing with family and friends.
Lumbini Gardens Bangalore Address
Nagawara Lake, Ring Rd, Hebbal, Bengaluru, Karnataka 560045, India.
Lumbini Gardens Bangalore entry fee
The entry fee for Lumbini Gardens in Bangalore used to be INR 50 per person for adults and INR 30 per person for children.
However, please note that prices tend to change so it's always a good idea to check with the park directly for the latest information.
Lumbini Gardens Bangalore timing
| | |
| --- | --- |
| Monday | 11.00 AM to 7.00 PM |
| Tuesday | 11.00 AM to 7.00 PM |
| Wednesday | 11.00 AM to 7.00 PM |
| Thursday | 11.00 AM to 7.00 PM |
| Friday | 11.00 AM to 7.00 PM |
| Saturday | 11.00 AM to 7.00 PM |
| Sunday | 11.00 AM to 7.00 PM |
---
Lumbini Gardens is a must-visit destination for anyone living in Bangalore. With its beautiful natural surroundings, range of recreational activities, and delicious food options, the park has something for everyone.
The park provides visitors with a much-needed break from the busy city life and offers a serene and peaceful environment to relax and unwind.
You may also like: things to do in Bangalore – TOP 5 things to do in bangalore this weekend