Looking for a quick weekend getaway , let me take you to Mandargiri Hills today. Not very far from Bangalore Mandargiri Hills Trek can be a very good family outing and nice half a day to one day trip.
So before I share my experience, let me give you some quick facts about Mandargiri Hills Trek which will help you decide on this trip.
Quick facts about Mandargiri Hills
Distance from Bangalore: Approximately 75 Kms from central Bangalore
Travel time: Approx 2 hrs to 2 hours 30 mins one way
Area: Near Dodbaspet & Tumkur
Road Conditions: Very good
Food options: Many on the way
Trip type: Nature, Trekking , Adventure, Religious
Near By : Shivagange, Savandurga and many others.
Parking: Ample parking available on site
Why Mandargiri Hills are famous for
Mandargiri Hills are famous as a jain heritage center. It has a very old ( around 1000 years old ) Jain temples at the top of the hill.
The trek involves climbing up the monolithic hills and the view from the top. Also you will find a huge lake behind the temple.
The surrounding is very calm and quite and green. The lake is amazing. Huge one and from the top of the hill , you can climb down towards the lake.
The lake beach is a bit shallow and hence you can very much much go into water a little bit, Being rocky area you can sit there and relax for some time.
Trip and Mandargiri Hills Trek
Our aim was to start early in the morning so that we avoid morning rush of traffic, but obviously it did not happen and by the time we started it was already 8.30. The traffic has built-up up by that time.
By the time we hit Tumkur road, it was already around 9.45 AM. Also it was getting hotter by day.
Remember, you don need to ask any one about directions. Google maps will take you straight there. But the route is very simple any way .
On NH48 around 10 Kms after Dobaspet you need to take a right turn near Madagondanhalli.
We reached there by 11.00 AM. Well we drove at a normal speed and hence we took a bit more time. Otherwise it is quite easy to cover this distance with in 2 hours.
Parking at Mandargiri Hills is not an issue. A lot of parking space is available and Rs40/- is parking charge ( may change when you go. Rs 40 is as of today).
As soon as you come out, you will see a peacock feathered shaped 81 feet tall Guru Mandir and a statue of Chandranatha Thirthankara which is a smaller version of the sri Gommateshwara statue at Shravanabelagola. And you will also see steps going towards top of the hill.
As it was getting hot, we decided to do the trek first and then come back as see these to beautiful structures.
The trek is quite easy. It is a total of 460 steps which will take you to the top of the hill.
On the hills there is a set of 4 old Jain temples which are around 800 to 100 years old ( 12th to14th century old ). Small but beautiful temples.
The temples are on elevated structure. Some time you may find the temple closed. And as per instruction given on the board below, you can take the keys from the caretaker below.
After doing the Darshan of we came out of the temple to explore the surroundings.
Mandargiri hills is surrounded with lot of boulders of which are of many shapes and sizes, a hence they are a hit with photographers.
After coming out the temple, we headed towards back side if temple and then the view was amazing. A huge , a very huge lake welcomed up.
After exploring the area some more, we figured out that there was a way going down towards the lake. The climb down was not very difficult and we reached the lake beach.
The lake beach is a rocky beach and hence it was easy to sit down, put your feet in water and relax.
It was a perfect place to relax in the midst of nature. The best thing was it was liked a lot by kids. They were having a gala time.
First a wonderful climb at the top of a hill and then a nice lake and cool breeze. It was all like a perfect weekend destination.
It tooks us around 20 mins to climb these 450 steps and then we had spent around 2 hours there .. some 45 mins near the lake.
By 1.30 PM we decided to head back. Took almost 30 mins from lake to back to parking spot. Once we were down .. took some break of 10 mins and decided to visit the peacock feathered shaped Guru Mandir and sri Chandranatha Thirthankara statue.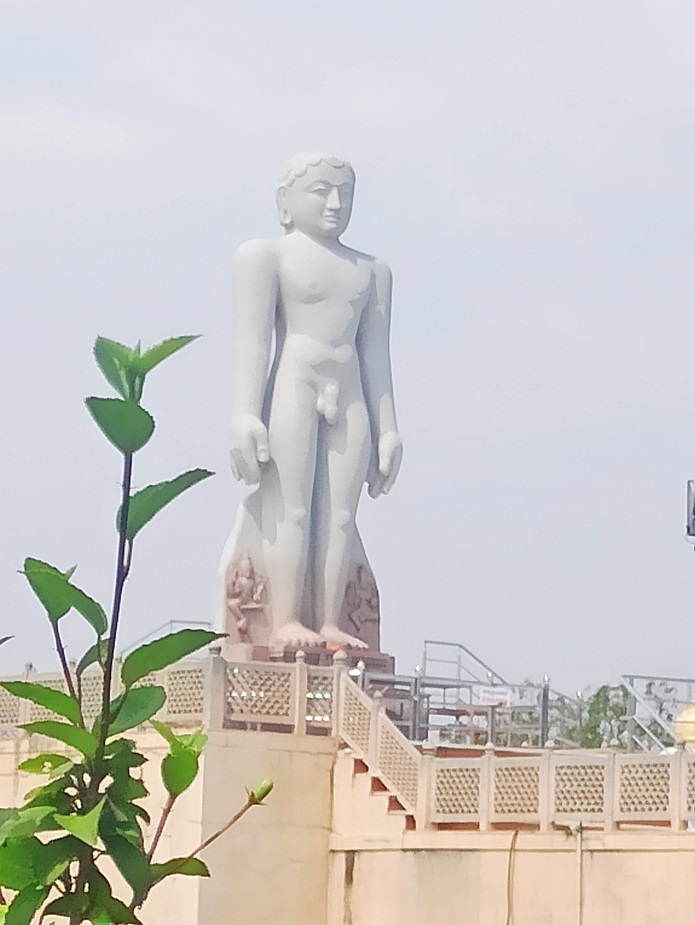 sri Chandranatha Thirthankara statue is kind of a miniature version of shri Gommateshwara statue at Shravanabelagola.
The peacock feathered shaped Guru Mandir is also a must visit. It is a meditation center and a very unique structure.
We spent almost 30 mins at this place and then it was a happy trip back home!
How to reach Mandargiri Hills
Mandargiri Hills is around 75 Kms from Bangalore. You need to take below route. Google maps is perfect , it will take you right up to the parking space of Mandargiri Hills.
Bangalore Center -> Hebbal -> Yeshwantpur -> Neelamangala – Dobaspet -> Mandargiri Hills
There are 2 tolls which you need to cross- Toll amount will be Rs 20 + Rs 40 one way.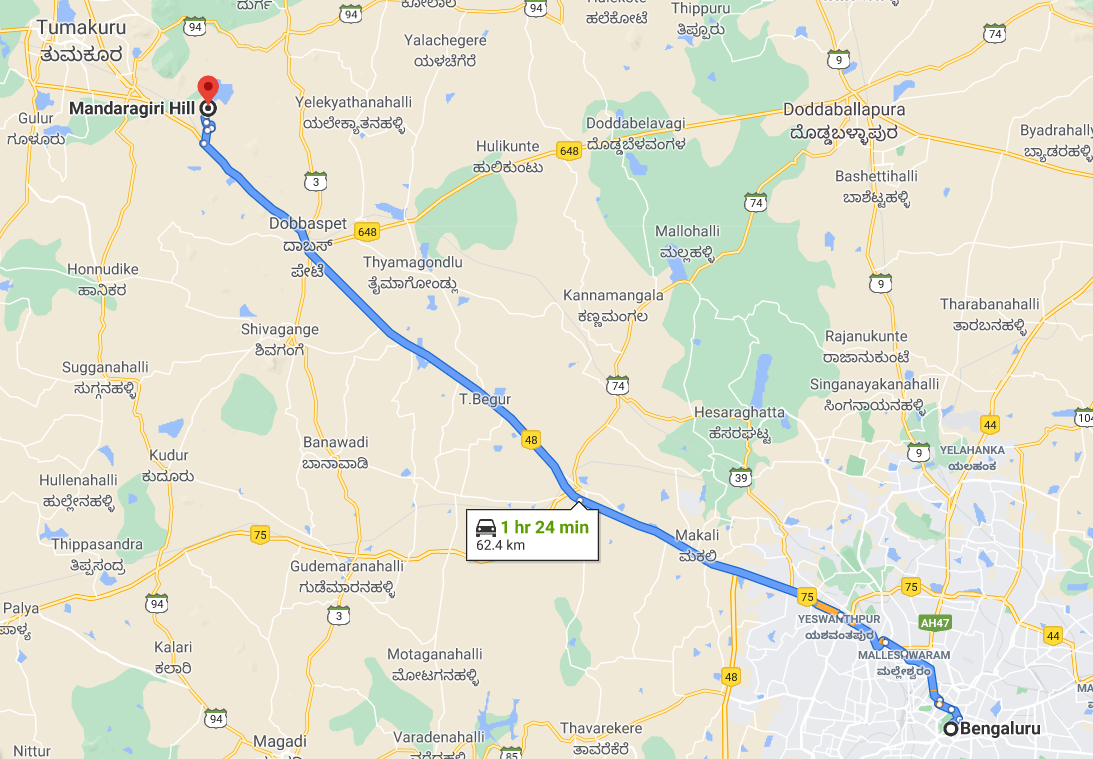 Best time to visit Mandargiri Hills
Mandargiri Hills can be visited round the year. But remember the trek to top of the hills though not much can be tiring when it is hot.
Best time is to visit early in the day. Start early , lets say 6.00 in morning and reach there by 8.00 so that you can climb when it is not that hot.
Avoid summers if you are not able to plan early in the day !
Conclusion
Overall it was a wonderful trip. Keep lot of water with you. Wear comfortable shoes and have a relaxed trip.
If you want to enjoy sunrise or sunset, plan accordingly.
Mandargiri Hills Trek offers a wonderful photography opportunities. Don't miss you camera.
Have a nice trip!
Sanjeev
---