Friends if you are living in Bangalore, the Meenakshi temple and the Royal Meenakshi Mall nearby can be a very good weekend trip for the family.
Then ofcourse if you go a little further you can also plan a trip to Bannerghatta Zoo and Champak Dham Swamy temple.
So you can also read my blog post on one day Banneghatta itinearary in which I have covered locations near Bannerghatta Zoo. click here for the article.
But do not that Meenakshi temple and the Meenakshi mall is before banerghatta zoo. It is around a distance of 10 kms from Meenakshi Temple to Bannerghatta Zoo.
But ofcourse you can plan all these together if you are an early riser and have a full day in hand.
ok coming back to Meenakshi temple, the temple is also known as shri Meenakshi Sundareshwar Temple. It is a very popular temple of Bannerghatta road.
It is located on the main road and is very easy to reach. Direct buses are available from majority of areas in Bengaluru.
This temple was constructed during the year 1993 by Sri.Narayana Reddy in the presence of Guru Sri Tirchi Mahaswamy. The temple has a big Gopuram.
Lord Sundareshwara ( form of Lord Shiva ) and goddess Meenakshi idols are worshiped here.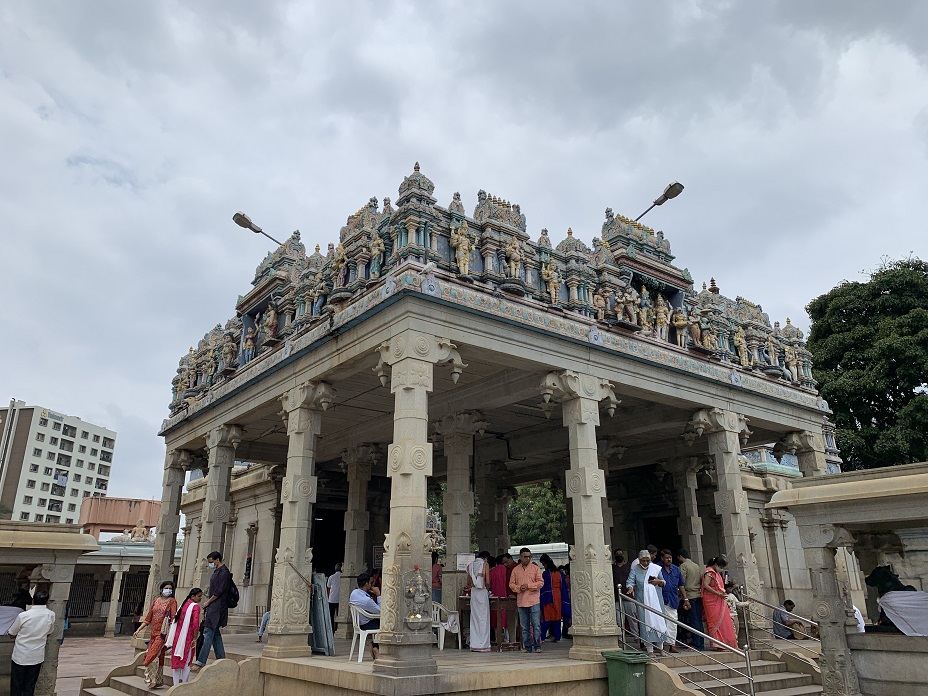 You will also find the temple of Navagraha , Ganesha , AyyapaSwamy , Subramanya , Chandikeshwara , Hanuman , Surya , Chandra , and lord Venkateshwara.
The temple is quite crowded over the weekends.
Temple is open between 06:30 AM to 12:30 PM in the morning and between 04:00 PM to 08:30 PM at evening on all days.
Abhishekam time is between 07:00 to 08:30 in the morning and between 05:00 to 06:00 PM in the evening.
So you can plan this temple visit early in the morning.
After the temple visit you can also plan to visit the big mall whch is on the opposite side of the road.
Th mall is quite big with very good shopping and food options.
So over all it can be a nice half a day trip.
On weekend this temple is very crowded so finding a parking spot in the front of the temple can be challange. But you can park you car in the mall and walk to the temple.
The total walking distance will be around 250 meters.
Also note that as of today there are metro construction work going on in the area and hence consider the traffic delays if you are leaving late from the home.
But overall it will be a nice trip. If you have elders in family they will love the temple visit and kids will enjoy some time at the mall.
You can also plan to go down further to Bannerghatta zoo and other places to visit in that area, please also refer to my other blog post which I have mentioned before.
Hav