Kodaikanal tourist places – The odometer read 1100 Kms. I have just been back to Bangalore from a nice trip to Kodaikonal. A beautiful hill station in Tamilnadu, near Dindigul. There is lots and lots of material available on internet on the history of Kodaikonal, so I will not cover it here.
Originally published – May 2016
What I would say is that, this is such a nice place to visit with friends and family.
I feel that you should plan to go there at least once. Below is some quick information on Kodaikanal tourist places , before I talk about what you can do in 2 days in Kodaikonal.
Quick facts before you go to Kodaikanal
Distance

From Bangalore = Approx 450 Kms , Time taken 8 to 9 hours one way
Distance from Chennai = Approx 550 Kms, TIme taken 9 to 10 hours one way

Road Condition : Very good throughout. Both from Bangalore and Chennai.
Food: Many options on the way and also in Kodaikanal
Time needed for Visit: Minimum 2 days. 3 would be better.
What you can do: Sight seeing / Nature
Transportation with in City: Mostly taxis. No autorikshaw.  Or your own vehicle if you are comfortable driving over the hills
Driving direction

From Bangalore its NH7 all the way and then turn from Dindigul towards Kodai
From Chennai its Chennai Theni Hwy/NH45.
Note: It get colder during night even during summers. So please carry blanket/shawl/jacket.
OK, that was quick fact. Three things to remember
In Kodaikonal there are some main spots with in the city which you must visit and spend some time.
Then there are spots which you can visit, spend a little time and move on
Then there are spots outside city which you can plan.
There are taxis available for single day. Minimum rate is Rs1400/- for Indica as of now. All hotels or taxi guys have a list of spot which they cover in one day. But remember if hire taxi, you get bound by the time limit of taxi guy.
With in two spots the taxis generally charge Rs 200/-. You can also negotiate for half day.
Places to visit in kodaikanal
In Kodai, with in City there are 5 places where you should spend some good time. These are
Kodaikonal Lake,
Brynt Park/Botanical Garden,
Coakers Walk,
Chettiar Park and
Krunji Andavar temple.
Then there are other minor spots which you can visit. Spend a little time and move on. These are –
Jain temple,
Moirs Point,
Pine Forest,
Upper Lake view,
Pambar Falls,
Wax Measeum,
Shenbaganur Museum (Science Measeum),
Silver Cascade Falls,
Pillar rock,
Green Valley view , G
una Caves (Devils Kitchen).
If you do a taxi for day, they try to cover almost all main spots and majority of other spots with in a day and hence you don't get to spend the time you want at every spot. So after doing some research, we made a itenary and that is below.
Before we do that. One more point to note, if you have 3rd day in hand, you can also plan for Palani temples and Berijam Lake. Berijam Lake is 19Kms from Kodai and Palani temples are 65Kms. Palani is town full of temples dedicated to lord Muruga and is on of the very important religious places for Hindus in whole of India. Apart from these two famous ones there are other places as well and taxis guys have a itenary for that as well.
We had 2 days in hand in Kodai. We wanted to spend some time on the Major spots so first day we decided to do it ourselves. Our hotel was near Chettiar park so we walked down up a little bit to Kruni Andavar Tample from them walked down to Chettiar park. From Chettiar Park we hired a cab till Kodaikonal Lake, after some boating went to Botanical Park which is opposite or Lake and then to Coakers Walk which is nearby.
Kodaikanal tourist places – Day 1 @ Kodaikanal
Day 1 => Krunji Andavar temple -> Chettiar Park -> Kodaikonal Lake -> Botanical Garden -> Coakers Walk
Krunji Andavar Temple Kodaikanal
This temple takes its name from the indigenous Kurinji flower that blooms once in 12 years. 2016 is the year.
The temple is dedicated to Lord Muruga (son of Lord Shiva).
Our first stop was this temple. The temple is at the top of the hill and Kurunji plants surround the temple. From the top you can also see Palani Hills.
Chettiar Park
A beautiful park near the Kurunji temple. You can easily spend an hour or more here.
Kodaikonal Lake
This is a man made lake, star shaped, built in 1863. You can do boating here. You can also take a stroll around the lake or rent a cycle and go around the lake. It is around 6Km stroll.
Brynt Park/Botanical Garden
Next to the lake is botanical garden. A very nice place to spend couple of hours. Kids enjoyed this place a lot. There are lots of flower here.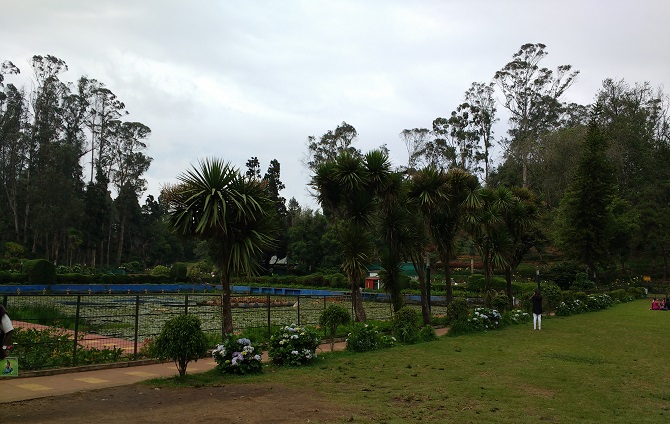 Coakers Walk
Paved way on the side of the hill near the lake which gives a nice view of the valley. It is at such a great height that during winter you will find yourselves covered in clouds. Look at the photograph below. You will see clouds coming up.
Coakers walk was the last place we covered on day 1.
We had spend good 1 hour at the lake. Around 2 hours in Botanical garden and 1 hour at Coakers walk.
In between we had nice lunch at one of the many food options near the lake. There is Domino's , Subway and other Indian restaurants.
Places to visit in kodaikanal -Day 2 @ Kodaikonal
Day 2: Jain temple -> Moyrs Point -> Pine Forest -> Suicide point -> Pillar rock > Guna Caves (Devils Kitchen) -> Pambar Falls -Upper Lake view – > Wax Measeum -> Shenbaganur Museum (Science Measeum) -> Silver Cascade Falls .

Jain temple @ Kodaikonal
Moyers Point
Offers a nice view of the surroundings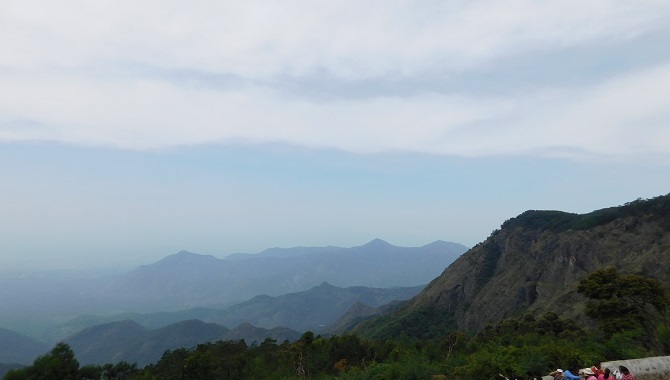 Pine Forest at Kodaikonal
Is the area which is quite famous for many movie shootings. It pine trees all around so tall as if they are touching the sky.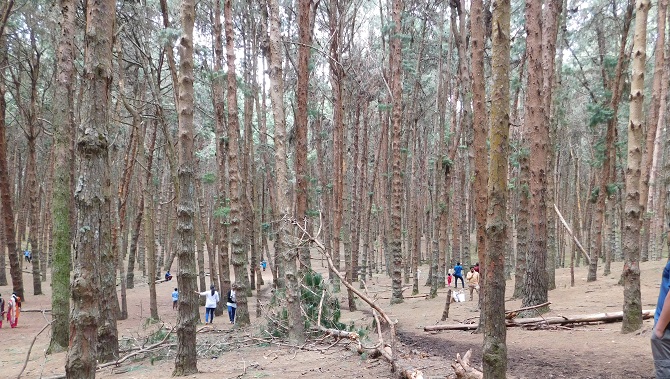 Suicide Point
Another point which offers a nice view of surrounding. Also famous as suicide point, People are not allowed to go till the end.
Pillar Rocks
These are around 125 meters high rocks standing tall. Famous Tamil movie, Guna was shot around this location.
Guna Caves
This place got its name from the famous Tamil movie Guna. But it was called as Devils Kitchen before. These are deep caves difficult to traverse. These are closed for public now, but you have visit the area and it also offers a nice view of the valley.
Pambar Falls
Nice little fall. Offers a good spot for kids to enjoy.
Upper Lake view in Kodaikonal
Offers a good view of Kodaikonal lake
Wax Measeum
Small , but good initiative by its creators. Good to visit once.
Shenbaganur Museum
Meuseum is home to a few archaeological finds, especially prehistoric finds unearthed in the Dolmen Circle (18km away) region.
Silver Cascade Falls
You will find this fall at the entrance of Kodaikonal. You can also cover it while going back.
---
That concluded our Day 2. A good nights sleep and we were back to Bangalore.
Some more points to note – May and June are highly crowded. Weekends are also very crowded. Driving is very difficult due to steep hills so be care full. Be aware of monkeys. There are lots. Carry some warm clothes as it get chilly in the nights.
Hope above information, Kodaikanal tourist places was useful. Enjoy your trip to Kodai.
Cheers! 🙂
You may also like: top 10 hill stations in south india