Mysore, probably is one of the most popular weekend getaway from Bangalore. Definitely 2 days are good to have in hand if you want to explore Mysore well, but I have done a one day Mysore trip couple of times. And believe me, it's not actually bad though can be tiring some times, but if you are of adventurous type, it can actually be fun.  As with my other blogs below are quick facts –
Distance from Bangalore : Approx 150 Kms one way
Travel time: 3 hrs approx
Road conditions: Very good  (Bangalore – Mysore expressway)
Food options: Many on the way and in Mysuru
What to see/do: Temple, Zoo, Gardens
Ok, so as I have mentioned before, I have done one day Mysore couple of times and below Itineraries I can suggest
Itinerary 1 : Bangalore -> Sri Chamundeshwari Temple -> Mysore Zoo – > Sri Ranganath Swamy temple Srirangapatna – > Bangalore
Itinerary 2: Bangalore -> Sri Chamundeshwari Temple -> Mysore Zoo – > Mysore Palace – > Bangalore
Itinerary 3: Bangalore – Sri Rangapatna -> Mysore Zoo – > Mysore Palace – > Bangalore
Approx time needed at different sites:
Sri Chamundeshwari Devi temple = 1 hr
Mysore Zoo = 2 hours
Mysore Palace = 3  hours
Sri Rangapatna temple = 1 hour
Travelling will take at-least 4 hours one side (with a stop of around 30 mins for food) and keep 1 hour for with in city travel. So considering all above on an average you will need 16 hours in total. If you leave Bangalore by 5.30 AM, you should be able to reach back home by 10.30 PM which is not that bad.
I would not really recommend this touch and go kind of trip, but if you really bored and looking for some good one day drive, this is not bad.  Good luck!
Enjoy some photos:
Chamundeshwari Mata temple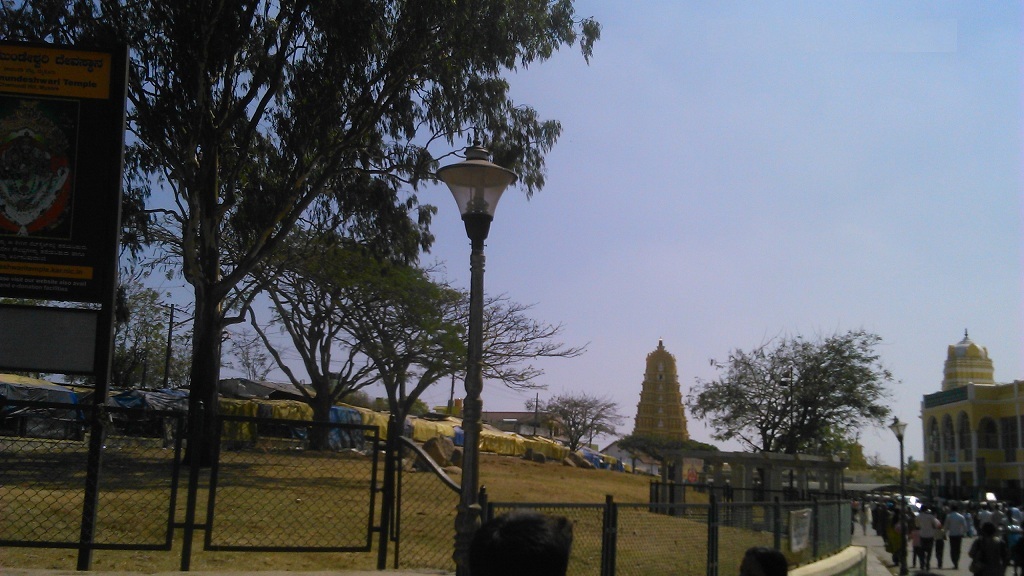 Mysore Palace – view from outside
Sri Ranganath Swamy temple premised @ Srirangapatna

Spme pictures from the zoo

1,272 total views, 3 views today