Ramanagara is a small city near Bangalore. Not very far from Bangalore Ramanagara hills also known as Ramadevara Betta offers a nice weekend escape from hustle bustle of the city.
Why is Ramanagara famous for ?
Ramanagara is a town which is of immense mythological imporatance as well and is famous for
Famous as silk city of India for Silk production
Famous for an ancient Lord Rama temple at the top of the hill know as Ramadevara Betta and the temple is known as Pattabhirama temple
Famous as the shooting location of one of the iconic films of our generation – SHOLAY
Also known for Ramanagara Vulture sanctury / Ramadevara vulture sanctury
Before we share our experience, let look at some quick facts about the location
Quick facts about Ramanagara hills – Sholay shooting location
Distance from Bangalore – Approx 50 Kms one way on Bangalore Mysore highway
Road condition – Bangalore Mysore highway is very good. Last couple of kms of the stretch is a bit in bad shape. Over all I would say its good.
Food options – Many on the way
Time taken – Not more than an 1 hour and 15 mins if you go early morning. If you go late the maximum time taken is to come out of city
what to do- Visit ancient Lord Rama temple, Engage is some moderate to difficult trekking and check out the sholay movie shooting point.
Ramadevara Betta / Ramanagara Hills trip
So let me share our experience with this trip to Ramadevara Betta / Ramanagara Hills.
We started early. The reason was to avoid trek when it becomes sunny. The best will be to leave Bangalore by 7.00 AM and reach there by 8 to 8.30 AM and we did the same.
We started for Ramadevara Betta / Ramanagara Hills at around 7.00 AM and we took NICE road to exit on Bangalore Mysore expressway. NICE road as always is a smooth drive.
Once we exited on Mysore expressway there we found some traffic as there is more road construction going to. The road me being widened. But it was not that bad.
We did a stop at one of the restaurants on the way for a nice Dosa / Idli break fast and that took almost 30 mins of our time.
So by the time we reached the entrance of Ramanagara Vulture sanctury / Ramadevara vulture sanctury it was around 9.00 AM.
We took the ticket. It is Rs 15/- per person and parking. It is just 5 mins drive from there and we reached the foothills of Ramadevara Betta. There is enough parking space there.
So we parked our car there , just looked around for 5 mins, appreciating the greenery all around and then we started our climb up.
One tip as soon as you go towards the step, you will find that many people have removed their footwear there. Please note that this is only for people who wanted to trek barefoot.
You may also like this video:
So you do not need to leave your footwear there and I recommend not to. Walking up the steps will become challenging otherwise. There are around 600 steps to the top.
the steps are quite well painted, covered at many places and sitting arrangement are there so that people who are tired are able to rest. And then greenery all around is a wonderful trekking experience.
On the way you will find a small Lord Shiva temple and little bit further you will find a Lord Hanuman temple. You may not be able to go to the Lord Shiva temple, we found it to be blocked, but visited the Lord Hanuman temple and then continued our journey.
At the top you will first see a small but beautiful temple called as Sri Rameshwara swamy temple and a view point and if you look straight you will see the main temple called as Lord Pattabhirama temple.
So we first went on to see Sri Rameshwara swamy temple . It is on a bit elevated place and a little bit climb further will take you to the view point which gives you a wonderful view of the surrounding area.
Shri Pattabhirama temple
Then we came down and went to the main temple known as Shri Pattabhirama temple.
Now this ( Shri Pattabhirama temple ) is the ancient temple which as per local legend was established by the monkey king Sugreeva. The idol of Lord Rama, Ma Sita and Lakshamana and Lird Hanuman is said to be of Ramayana time.
The current temple structure is said to be more than 1000 years old and it gives such a nice feeling to visit this ancient temple.
Just behind the temple is a beautiful , a very beautiful pond called as Sita Mata pond or Sitadevi Pond. This pond is so so beautiful that you will definitely want to capture it and keep it for life.
But access to this pond is closed and the reason behind that is the mystery around this pond. The depth of pond is not known. Hence you are not allowed to go near it. But look at the photograph.
After visiting the main temple, then we started further , the trek further is downwards and if you explore it further you will find some interesting places related to the sholay movie.
You can also trek further to the top of the hill – The place from where Gabbar's team member Sambha used to sit. This is what I could hear people saying. I dont know if it was exactly that place.
So all this took a lot of time. Climbing up the hill took almost 45 mins for us. But exploring the area after visiting main temple took a lot of time. By the time we were done it was already 3.00 PM and we decided to return back.
How to reach Ramadevara Betta / Ramanagara Hills
Ramadevara Betta / Ramanagara Hills is around 50 Kms from Bangalore. You need to take Bangalore Mysore expressway.
Once you enter Ramanagara, keep looking for a arch on the right hand side ( with a big Hanuman Statue). If you are coming from Mysore you will see this arch on left hand side.
---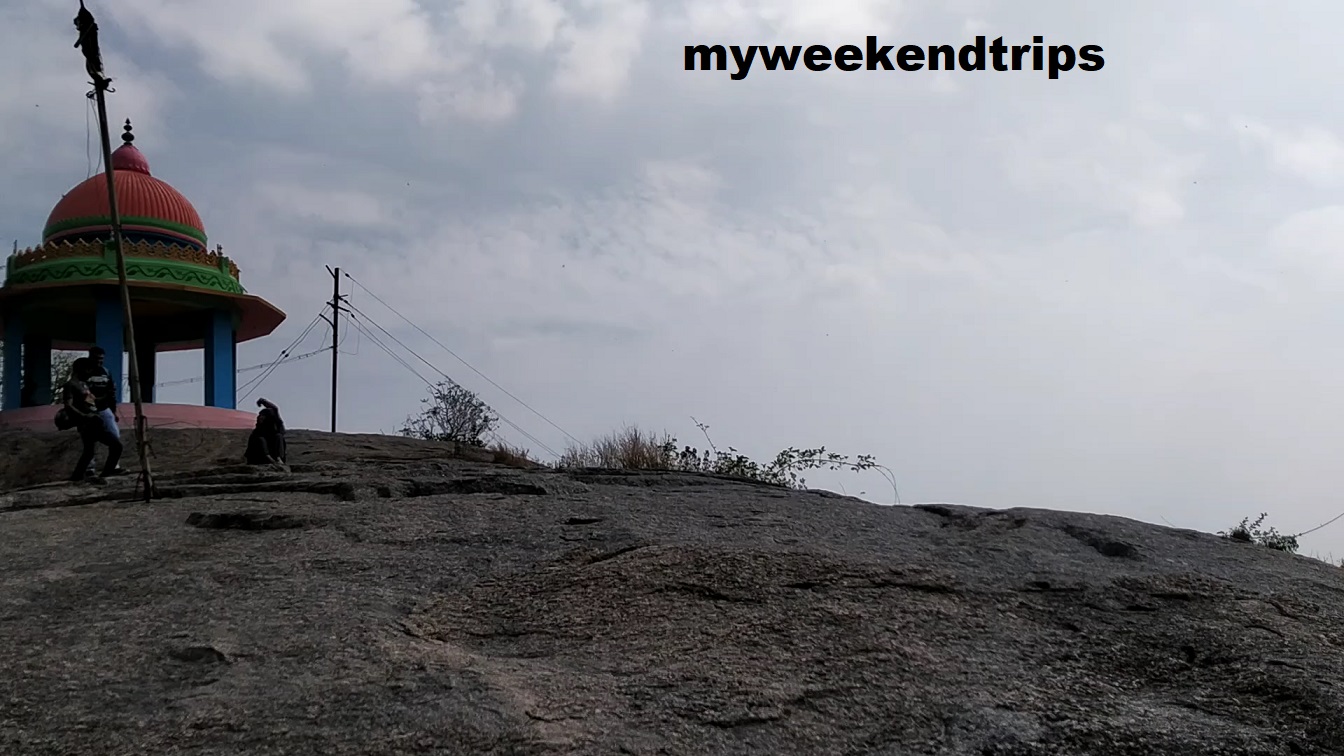 So friends over all it was a wonderful and nice and fulfilling trip.
Kids enjoyed a lot. It was a lot of fun for them, climbing to the top , it was a nice trek.
The climb is not so steep and hence the trek is not that difficult.
So do visit this place when you find time. It will be a nice trip!
---