What's better than a nice one day weekend outing after a tiring week. Sangama and Mekedatu offers a great one day trip option from Bangalore.
Situated in the lap of nature, Sangama and Mekedatu are 2 major tourist attractions near Bangalore and are perfect for one day trip.
What is Sangama?
Sangama is a place where 2 rivers, Kaveri and Akravati meet. It is a breathtaking to see 2 rivers meet. During summer time, this wast area is only knee deep water and can be crossed very easily. While during monsoon and after monsoon, there is lots of water and it becomes dangerous to go inside.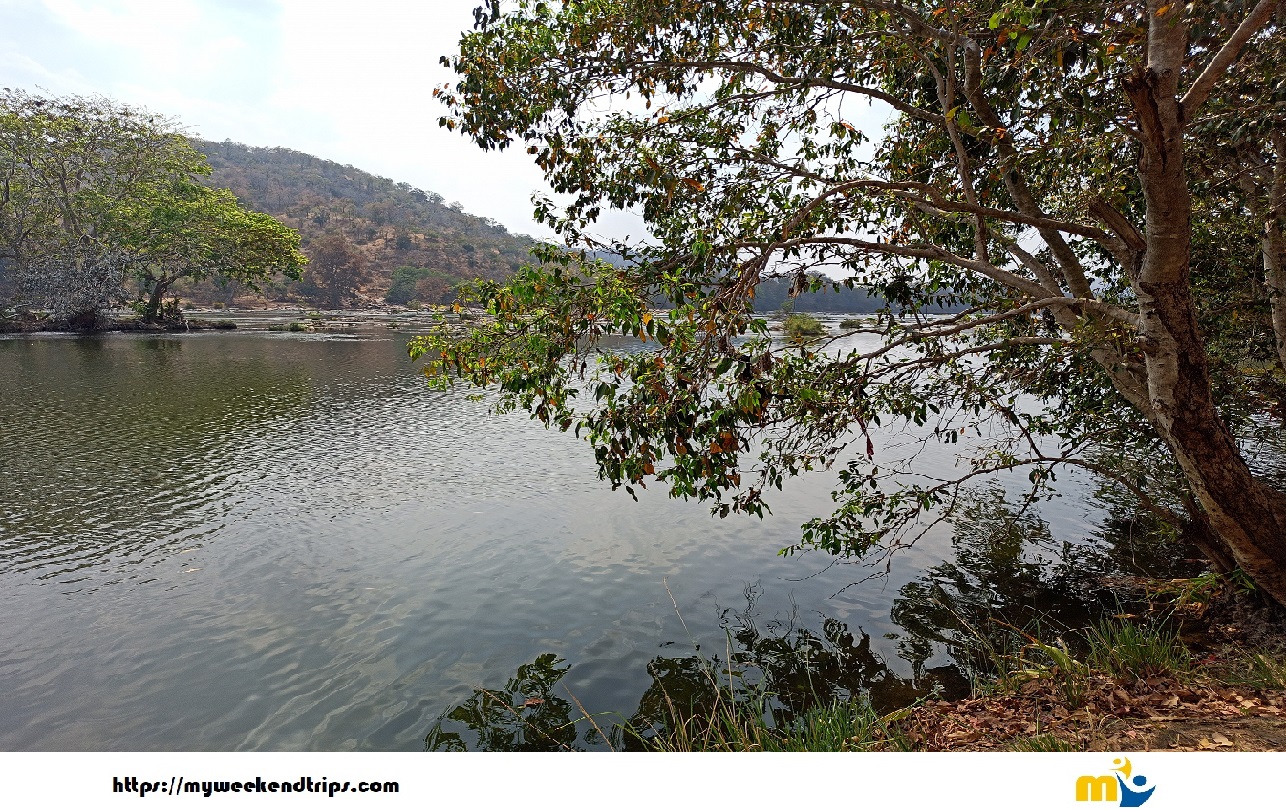 You will also see sign boards with danger marked. Also you will see sign board, warning you about crocodiles. Yes, this area also has danger from crocodiles.
But there are places marked where you can enter inside the water. The best suggestion here is be with crowd.
Then you can take coracle ride. It is approximately Rs 50/- per person as of today, but may change when you visit. It takes you from one end to other and comes back. It will be a nice experience.
What is Mekedatu?
Mekedatu is around 4 to 5 Kms from Sangama. Mekedatu in Kannada means "Goats Leap".
Why it is called as goats leap is also an interesting story.
Mekedatu is the a narrow gorge, very deep, only 10 m wide, through which Kaveri flows after meeting river Akravati at Sangama. It is believed that once people in area saw a goat trying to escape from a tiger, jumped this gorge and escaped and since then it's called as goats leap or Mekedatu.
How to reach Sangama and Mekedatu
Sangama is around 30 kms from Kanakpura. You need to reach Kanakpura first and then once you cross Kanakpura you will find 2 roads, left one goes to Sangama. Google Maps works just fine.
Bangalore => Kanakpura => Sanagama & Mekedatu.
After Sanagama, you need to cross to other side to go to Mekedatu. In monsoon or during winter when water is high at sangama, you need to take crocale ride to cross to the other side. But during summer , water is so less that you can just cross by walking across the river.
Once you are on other side, you can take a bus which costs approx Rs 50 and takes you to Mekedatu or you can just walk. It is a trek of around 4 to 5 Kms. In summer this walk can be a bit of challenge.
---
Sangama and Mekedatu are both a nice place to visit with family and friends. Remember not to venture deep into water and do follow the warning signs.
There is some good restaurants on the way, but Sanagama also has hotel Maurya which is KSTDC hotel and is good. You can have lunch there. If you are fish lover, outside stalls sell fried fish which are caught locally. You can try that as well. This fish is a speciality here and tastes really good.
You can also club your trip with Chunchi Falls which is near by approx 12 to 13 kms. If you are going in summer you may not find much water in the falls. Also remember to start early else clubbing all this together can be a challenge.
---
So friends do visit Kanakapura and near by Sangama , Mekedatu and Chunchi falls. It will be a nice one day trip.
Have a good day guys!