Singur Dam Reservoir is a major water reservoir located in the state of Telangana.
On which river is the Singur Dam built?
The dam was constructed on the Singur River, a tributary of the Manjira River.
It is a major source of drinking water and irrigation for the surrounding areas.
When was Singur Dam built?
The Singur Dam Reservoir was constructed in the year 1989 and was commissioned in the year 1997.
The dam has a height of 25 meters and a length of 4,170 meters. The reservoir has a storage capacity of around 29,300,000 cubic meters of water, and it is capable of irrigating around 6,700 hectares of agricultural land.
The Singur Dam Reservoir is a crucial source of water for the surrounding areas, especially during the summer months when the water availability is limited.
The reservoir provides drinking water to several towns and villages in the surrounding areas, including Medak, Siddipet, and Sangareddy.
The dam also plays a vital role in the irrigation of the surrounding agricultural land, which is crucial for the cultivation of various crops, including paddy, cotton, and maize.
Apart from being a source of water for drinking and irrigation, the Singur Dam Reservoir also has a significant hydropower generation capacity.
The dam has a power station that has the capacity to generate 1.5 MW of electricity. The power generated by the dam is supplied to the surrounding areas, which has helped in the development of the region.
What to see at Singur Dam Reservoir
The Singur Dam Reservoir is also an important tourist destination in Telangana.
The deep waters of the reservoir are home to about 1000 crocodiles
The reservoir is surrounded by lush green forests and hills, and it is a popular destination for picnics and weekend getaways.
The reservoir is also home to several species of birds and fish, which attract birdwatchers and anglers to the area.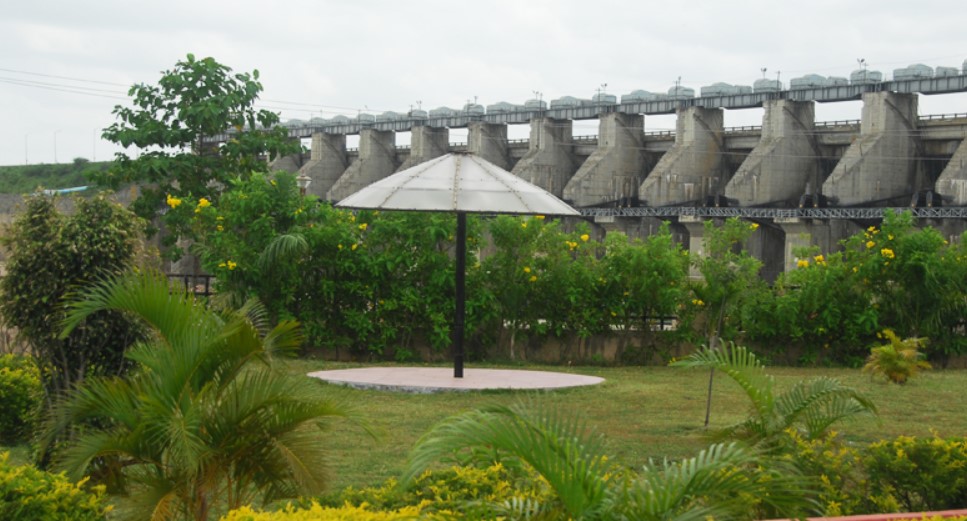 Where to stay near the dam?
The Haritha Lake View Resort at Singur, situated near the Singur reservoir, is an ideal picnic destination for families and groups of friends in the Medak district. The A/C and non-A/C rooms are very affordable, and the hotel also has a decent restaurant that serves fresh food.
Where to eat near Singur Dam?
Haritha Lake View Resort at Singur located close to Singur reservoir
It is a state government resort and is very good. You can have lunch there or bring your own food and have a nice picnic at the dam.
How to reach Singur Dam?
Singur Dam is accessible by road from Sangareddy in Medak district, located nearly 35 km away
It is approximtely 99 Kms from Hyderabad
---
The dam has played a crucial role in providing drinking water and irrigation to the surrounding areas and has also contributed to the development of the region through the generation of hydropower.
You will also like: Rachakonda Fort Telangana – A must visit fort near Hyderabad