The Wargal Saraswati Temple or the Saraswati temple, located on a hillock in Wargal hamlet in Telangana's Siddipet District, is the state's most famous Saraswati shrine after Basara.
This temple is well-known for its Aksharaabyasa for children. It is a prominent pilgrimage destination near Siddipet and Hyderabad.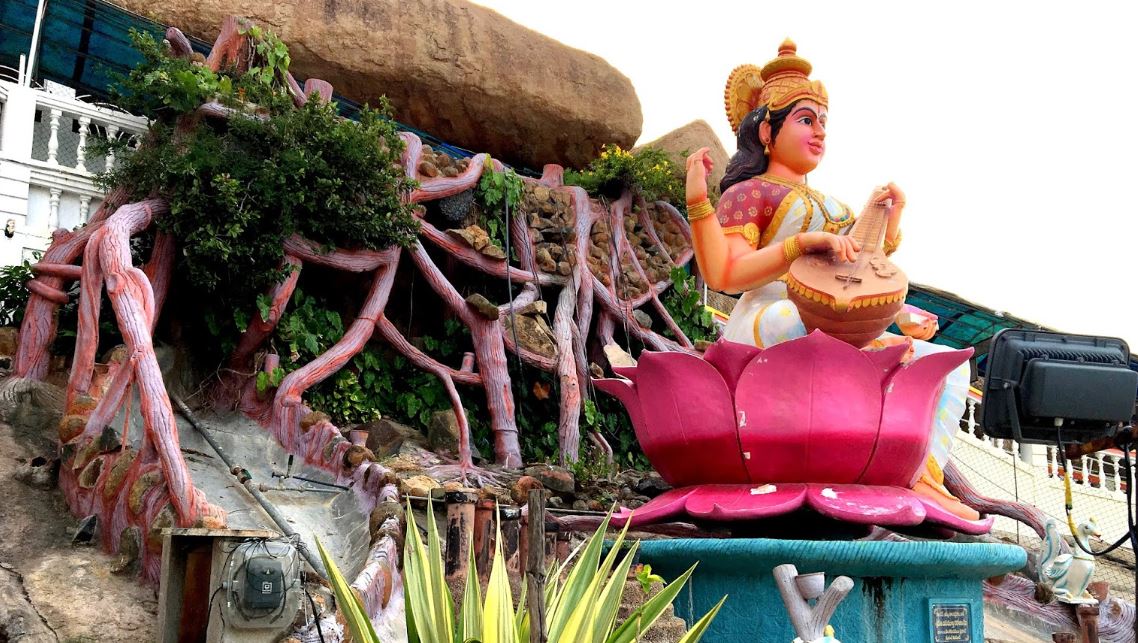 The Wargal Saraswati Temple is one of the few Saraswati temples in Telangana. Sri Yamavaram Chandrashekhara Sharma constructed the Sri Vidya Saraswati Temple.
The foundation stone for the temple was set in 1989. Sri Vidya Nrusinha Bharati Swamy lay the groundwork for the statues of Goddess Sri Vidya Saraswathi Devi and Lord Shani in 1992. Kanchi Mutt is now in charge of its upkeep.
The Goddess Saraswati Devi is honoured in the Wargal Temple. The garbhagriha is on a level that is roughly similar to the third floor.
The Goddess is seen in her entire beauty, embellished with jewels and garlands and dressed in a saree. In front of the temple, there is a stunning piece of art in the form of a Goddess idol around 10 feet tall.
Sri Lakshmi Ganapathi, Lord Shanishwara, and Lord Shiva are the other temples in the compound.
There are two Vaishnava Temples here, both of which are nearly in ruins.
These two Vaishnava temples are claimed to have been built during the Kakatiya monarchs' era.
A massive triumph pillar is also nearby. It stands around 30 feet tall and is adorned with statues of Lord Rama, Goddess Sita, Lord Lakshmana, and Goddesses Lakshmi.
On the temple grounds, there is a Veda Paathashaala where numerous students learn Vedas.
Many families come to this temple for their children's Aksharaabyasam before they start school. All devotees are given with complimentary meals at the temple premises known as Nitya Annadanam.
In this temple, the festivals of Vasantha Panchami, Navartri Mahaotsavams, and Shani Tryodasi are held in magnificent style.
The most auspicious day for worshipping Saraswati Devi is Moola Nakshatram (the birth star of Goddess Saraswati). Special ceremonies are done at the temple on this day.
On Vasantha Panchami (Jan/Feb), thousands of families bring their children to the Aksharabhyasa, which draws between 25 and 30 thousand worshippers.
Darshan typically takes 2-3 hours during Vasantha Panchami, with Aksharabhyasa taking at least an hour longer.
How to reach Wargal Saraswati Temple
The siddipet district is not having Airport. The Nearest airport is the rajiv gandhi international airport at distance of 50 km.'
The nearest railway station is Akkannapet, which is 66 km away.
The temple is at a Distance of 61 Km From Siddipet and around 55 km from Hyderabad. Will take around 1 hour 30mins from Hyderabad by road.
You may also like:top 10 tourist places in telangana