Looking for a nice and relaxing trip this weekend ? Around 200 Kms from Bangalore, Yercaud situated in the shevaroy hills range offers a wonderful weekend getaway option. Read more for a 2 day itinerary and some tips from my side.
Quick facts about Yercaud
Distance from Bangalore
Approx 200 Kms one way
Time taken
Approx 4 hours one way ( excluding the stops for tea/ coffee food etc)
Road condition
Fantastic if you take Route#1 ( via Salem) as described below.
Route 2# ( via Deevattipatti )has some rough stretch for 15 to 20 Kms
Food option on the way
Many on NH44
Stay at Yercaud
Many options. But pre book if you are travelling over weekends / Holidays
Famous for
Lake , Natural Beauty, View Points, Resorts, temples
Ideal for
Every one
Yercaud tourist places
As I have mentioned before, Yercaud is famous for its Natural Beauty. Hence you will find a many view points, gardens, water falls, a beautiful lake and some must visit temples.
Below is the list you should choose from if you are planning to visit Yercaud and plan accordingly.
One you have looked at the list below, you can look at the itinerary which I have followed if it works for you.
Yercaud Lake
Pagoda Point
The Servaroyan Temple
Ladies seat
Rose Garden
Silk Farm
Botanical Garden
Gents seat
Killiyur Water falls
Sri Raja Rajeshwari Temple
Sri Annamalaiyar Temple
Anna Park
How to reach Yercaud
Yercaud can be reached by two ways. Either way you have to travel till Dharampuri. After Dharampuri either you take left and go via Deevattipatti or go to salem and then turn towards Yercuad.
Route 1# ( my preferred route ): Bangalore -> Hosur -> Kishangiri -> Dharampuri – > Salem -> Yercaud
Route2 # : Bangalore -> Hosur -> Kishangiri -> Dharampuri – > Deevattipatti -> Yercaud
Route 1 is preferred as it is NH44 till Salem and after that Salem Yercaud highway.
Yercaud itinerary
So we decided to be there over weekend and as I have mentioned before, majority of tourist who visit Yercaud are there over the weekend and hence pre booking hotel is very important.
Tips for travel
So our first tip ( tip #1 ) will be that book hotel / homestay near Yercaud Lake. Specifically if you are travelling with kids. Well if you want to enjoy resorts, there are many near Yercaud Lake as well, but good ones are deep inside.
Tip 2# – Plan in such a way that your travel time between spots are reduced. Remember in hills driving is a bit challange. I did not find much issue though, but many a places the roads are narrow. So the less you drive, the better it is.
Tip 3# – If you re planning to hire a taxi there, negotiate. The price they as for is almost 40% more. So you can definitely bargain. Also an auto rikshaw will be more economical. But it may not go to certain places like Annamaliyar temple or Shevroy temple as the climb is steep. So you need to check!
Tip 4# – The last 30 to 40 Kms stretch is with out petrol pump. So make sure that you fill sufficient petrol / diesel while you are on national highway 44 ( NH 44) Same with food. Plant to finish your food while your are on NH44.
Tip 5# – While returning back make sure that you leave Yercaud by 5.00 PM in evening so that you cover the ghat area while its still sunlight. A little bit earlier is still better.
As usual we always get late to start. More so if you have kids. And hence our plans of starting at 5 ends up with starting at 7.00 AM.
But if you are able to start early, is it good. In-fact you can start as early as possible. NH44 is always full of traffic. Only advise is to cover the last 30 to 40 Kms stretch in Day time.
Day 1 itinerary
So our first day was – Travel to Yercaud and visit to Killiyur Water falls, Yercaud Lake, Anna park, Pagoda point, Ladies Seat & Rose Garden and a nice dinner.
We were able to start only by 6.30 AM. By 7.15 AM we crossed the Hosur toll and we were into Tamil Nadu. Roads being good through out, it is always a fantastic drive on this road.
We did our breakfast on the way. There is a Food plaza after Kishangiri. There is a Mac Donald on the way so if kids are interested, it is one of the nice places to have breakfast.
We were able to reach Yeracaud only by 11.30 AM. So it took us 5 hours with 1 hour of stop in between for tea / coffee and break fast. Also since we had kids with us, we drove a bit slow.
As soon as we reached Yercuad our first stop was Killiyur Water falls. It is a beautiful water fall around 6 kms from Yercaud lake. Since our hotel was ay Yercaud lake, we thought of directly going to water falls and then coming back and check in to the hotel.
We reached Killiyur Water falls by 11.50 and parked the car at the private parking place available there. The parking fee was Rs 30 /-. From parking lot you need to walk around 500 meters which includes a climb down of around 200 steps.
You will need atleast 60 to 90 mins to visit this place. Climbing down towards falls itself is a wonderful experience. But the best part is the falls itself. You can go and sit below the water fall. The water is cool and refreshing. Have a look at these cool photographs.
We were back by 1.30 and checked in . Out hotel was very near to Yercaud Lake and hence the plan was to cover Yercaud Lake and Anna park together in the evening.
We had some nice lunch at the hotel and by 2.30 PM were ready to go out again. We decided not to take a cab / taxi and drive by our own.
Driving in hills can be a challange some times, but is also fun. Our next stop on Day 1 was pagoda point
2.45 PM – 4.00 PM: Pagoda point, Ladies Seat & Rose Garden: Pagoda Point and Ladies seat – is a nice view point and you can enjoy the scenery all around. I think this place can be maintained a bit better, but any way it is a fun to be there with kids.
Rose Garden is a beautiful place next to Ladies seat. But there we no roses when we went.
You need 1 to 1 hr 30 mins to visit these places. Not much to see except this view point and some nice photography options.
So by 4.30 we were back at hotel. Next was to cover Yercaud Lake and surrounding spots.
The advantage of staying near the lake is that you can just walk down. So this is what we did. Parked our car in hotel parking and walked down the road to Yercaud lake
4.45 PM to 6.45 PM – Yercaud Lake, Boating, Anna park, Eco Park, Aquarium and a nice coffee at Kappi House.
Yercaud Lake is a natural lake and has some good boating options. Entry to lake is nominal price but once you are inside you can buy boating tickets. Ticket ranges from Rs 130 to 500 based on type of boat.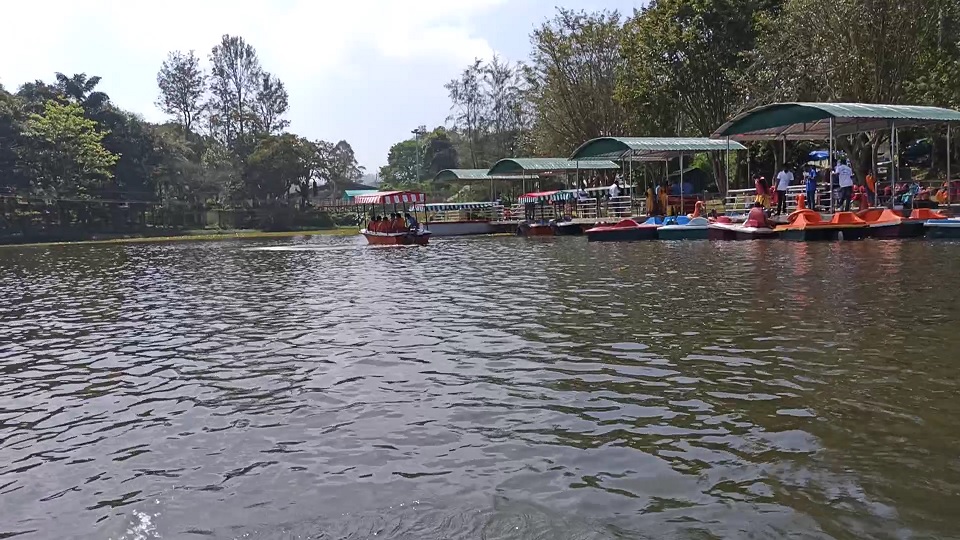 Next to Lake is Eco Garden, Anna Park and Aquarium and you can check out these options as well. All these are in walking distance of each other.
And these spots do not take much time. kids will definitely enjoy these spots. Lot of places for them to run around.
By 6.45 we were done visiting these places and a nice boat ride in Yercaud Lake. After that we headed to "Kappi House". A coffee shop around the corner. They serve some very nice coffee and you will find lot of rush there. We enjoyed a nice cup of coffee , did some shopping of home made chocolates, Masala tea, some soveniours and headed back to hotel by 8.00 PM
We had our dinner at the hotel and called for the day ! It was nice Day 1 over all.
Day 2 itinerary
Our day 2 was more dedicated to the 4 must visit temples – Shri Annamaliyar temple , Sri Raja Rakeshwari Temple, Sri Shevroy temple , Sri Chakra Meru temple and Botanical Garden.
Except Annamaliyar temple, all other spots were on the same side and near to each other.
We wanted to head back to Bangalore by 4.00 PM since we wanted to cover the ghat area while it is still sunlight.
We got up a bit late and by the time we were ready it was already 9.30 AM. We checked out by 10.00 AM. Our plan was to view all above places and then leave for Bangalore.
Our first stop on Day 2 was Sri Annamaliyar temple. The temple is dedicated to Lord Shiva. You get a nice view of surroundings.
Our next stop was Botanical garden. All these spots on day 2 are on same road so it was planned that way. Unfortunately we found the Botanical garden closed.
We enquired at the gate and were told that the Botanical Garden remains closed over the weekend. Not sure if this is true. Please do check this out. It was for sure closed on that day. But I don't think they will keep it closed on weekends in general as this is one of the major tourist attractions here.
The next stop was Sri Raja Rajeshwari temple. It is a very small but beautiful and power full temple of the area.
The temple is on a small hill top and you need to climb some 20 odd steps to reach to this beautiful temple. Dedicated to goddess Rajeshwari, this temple is said to be very powerful.
The next stop was to visit the most visited, most thrilling and one of the most sacred temples of the region Lord Servarayan Temple (Shevaroy Temple).
The drive to the temple is one of the most beautiful and thrilling drive you will ever take. And once you reach at the temple, you are at the topmost area of Yercaud.
The top of the hill on which this temple is located is a flat surface and looks like a plateau. From top the view is so amazing.
The temple is actually a cave temple and is dedicated to Lord Servarayan and Ma Kaveri. Goddess Kaveri is considered to be the protector deity of villages in this area and during month of May a big celebration is done at this temple where all the villagers / tribes of this area gather here.
We spent some good amount of time here.
After the Raja Rajeshwari temple if you go further you would come to a junction where if you go right you will come to Servarayan temple.
You will see all the marking there. It also says that if you go straight you will go to Bangalore.
Well take that route and it will take you to Sri Chakra Meru temple. You will need some 30 mins to visit that temple.
But please do not take that route to Bangalore. Come back to main city and take the way back to Salem and from there come back to Bangalore via NH44.
So our last stop was Sri Chakra Meru Temple. It is a newly built temple with lots of positive energy all around.
We were able to finish all these spots by 2.30 and by 3.00 PM we were back to Yercaud bus stand.
We looked for a nice restaurant for lunch and by 4.30 PM were done and started back for Salem. By 5.30 PM we were crossing Salem and touched NH44.
We stopped at KFC on the way as kids wanted to eat burger and we had a nice cup of team at Sarvana Bhavan.
By 9.30 PM we touched Bangalore.
It was a nice 2 day trip , a relaxing one!
---
You may also like: Kodaikonal trip