If you live in Bangalore, visiting Coorg is definitely on your mind. Coorg is a tranquil little district in Karnataka, famous for beautiful and world class coffee estate, varied wildlife. We planned for a 3 day trip to Coorg (travel included) and had a great time. This post " Coorg – A beautiful hill station near Bangalore – Day 1″ is our first day of travel to Coorg.
Also read Day 2 – Coorg a beautiful hill station near Bangalore – Day 2
For Day 3 – Coorg – A Beautiful Hill Station Near Bangalore – Day 3
Remember Coorg (also known as Kodagu) is a district with 3 main towns – Madikeri, Virajpet and Somwarpet. So it depends upon what you want to do in Coorg and based on that you can decide where you want to stay in Coorg.
For all practical purposes Madikeri is the best Choice. And if you are travelling with family and with kids and eldelry people, Madikeri is the best stopping place for you as all major tourist attraction are around Madikeri.
If you are very much interested in trekking, jungle experience you can may be look at other towns which are further deep inside. Since we were with kids, we chose to visit the tourist spots most commonly visited.
So before we embarked on this beautiful journey, we had the spots clearly identified and we divided the whole trip into must visit and good to visit spots.
The must visit spots we had on our list were
Omkareshwara temple (with in Madikeri)
Raja's seat
Madikeri fort and museum
Bhagamandala
Tala Kaveri
Abbey Falls
Namdroling Monastery
Nisargadhama
Abd good to visit (these are a bit far from Madikeri and if you have couple of more days in hand then you can plan to visit)
Iruppu water falls
Dubare elephant camp
Harangi Dam
Kotebetta trek
Mallali Falls
Padi Iggutappa Temple, Coorg
As far as stay is concerned, there are lots of home stays in and around Madikeri. There are hotels and lodges as well, but we would say that our homestay experience was nice.
One suggestion we have though is that choose your hotel or home stay with in 4 to 5 kms of Madikeri town. Being jungle area, it becomes really dark after sunset and it is easy to get lost and home stays are generally outside city and in jungle area.
We had total 3 days in hand including travel and hence we planned the trip accordingly. Also we choose to to go via mysore. Though there is another way to go via Belur – Ramnathpura. The roads were very good through out. Since we were going via Mysore we thought of visiting Chamundeshwari temple (in Mysore ) on the way .
So this was our itinerary for Day 1
Leave Bangalore by 5.00 AM.: We left Bangalore by 5.00 AM in morning. Leaving so early can be a challenge, but it is not impossible. You avoid lot of traffic with in the city and on Mysore road. Have breakfast at Kamat hotel on the way
Stop 1 – We reached Chamundeshwari Temple, Mysore by 8.30 AM. We were happy to see that there is a multi level parking which has come up there and parking has become really good. There was lot of rush on that day and hence we took Rs 30/- special darshan ticket. If you are in a hurry, you can take Rs 100 /- special darshan ticket. By 9.00 AM we were in the queue for Darshan. By 10.00 AM we were out. By 10.30 we were back on road for Coorg.
Stop 2 : Kushal Nagar. Our next stop was Kushal Nagar. It is on the way to Madikeri. It is around 90 Kms from Mysore and should not take more than 2 hours and 30 mins from Ma Chamundeshwari temple. Kushal Nagar is famous for Namdroling Monastery. Also goes by the name Golden Temple. It is big Tibetan Settlement. We stopped at Adigas on the way for Lunch and hence it took us some more time and we reached Golden temple by 2.00 PM. This monastery is open through the day. We spent good 1 hour 30 mins there. Did some shopping. There are lots of tibetan cloth and souvenir shops around the temple where you can shop. And were back on road for Madikeri. Approximately 30 Kms but ghat area starts and hence drive becomes slow.
Namdroling Monastery is one of the largest tibetan settlement in south of India. Built and painted in Tibetan style it is also called as golden temple. Setup by Tibetan monk Pema Norbu Rinpoche in 1963, is one of the important religious center for Nyingmapa line of Buddhism. Around 5000 monks and nuns live here. There is a nice market outside the temple where you can buy some good clothes and souvenirs.
Stop 3. Our Home stay at Madikeri and visit to Rajas seat. We reached our home stay by 5.00 PM. Checked in. Ordered some tea and took rest for a while. After spending an hour we head for Rajas seat. We went there 2 time. Once on Day 1 during evening to catch a glimpse of sunset and dancing water fountain and then next day morning to get a nice view from top.
Raja's seat is one of the important destinations in Madikeri and offers a wonderful view from the top. The garden around is a nice picnic spot to spend time with family and friends. We spent close to one hour there and then looked for a good restaurant for dinner.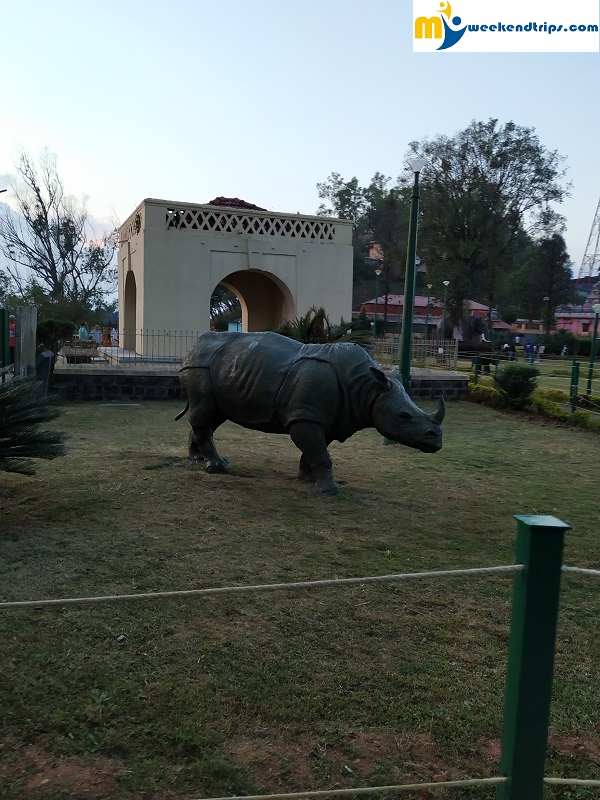 So this was our last stop for Day 1 in Madikeri. We had some nice dinner at hotel prestige and called it a day.
Back to our homestay we were all very tired but had a very satisfying day one. Coorg looked wonderful guys and we were ready for Day 2.
Did this post interest you and made you think about Coorg s your next long weekend? Keep reading our next 2 posts to see how you can chalk out a 2 to 3 days itenary for Coorg.
Have a good day!
Kumar