Friends are you looking for for a weekend getaway with kids – try Jain farms Baglur (near Hosur).
I recently visited this place. It was a weekend and kids were getting restless. It has been a long time, we have gone on a weekend drive and kids wanted to go somewhere.
You may also like : A trip to Bannerghatta Zoo and Champaka Dhama Swamy temple
I did not had much time in hand and was looking for a half a day trip somewhere and while searching on internet, I came across this place.
Not very far from Bangalore, infact very near to sarjapura, lies this huge property from Jain farms group. It's actually a farm land and farm houses and people who own farm houses do come and stay there I guess, may be over the weekend.
Check out our video on Youtube
But then what was interesting is that, in that lush green area, there was a small village kind of setup created for general public. We were kind of late to start. We went via sarjapura. It is in Baglur which is approx 50 Kms from Bangalore.
Point to note: This is open only on weekends (i.e saturday and sunday)

We reached there at around 11.00 AM. Had our welcome drink and then we had some chat and pani puri …. yes that is how you are welcomed there. Panipuri was just great.
One you checkin there, there are set of activities which you can do like pottery making, bullock cart ride, archery, some village games, rain dance, swimming, couple of children parks and other kids activities, tattoos, head message, trampoline for kids and of course lots of area for kids to run around.



We planned for a bullock cart ride first and then we went for pottery making. Kids were just having fun with all these and time was 2.00 PM. We were told that the food was ready (lunch).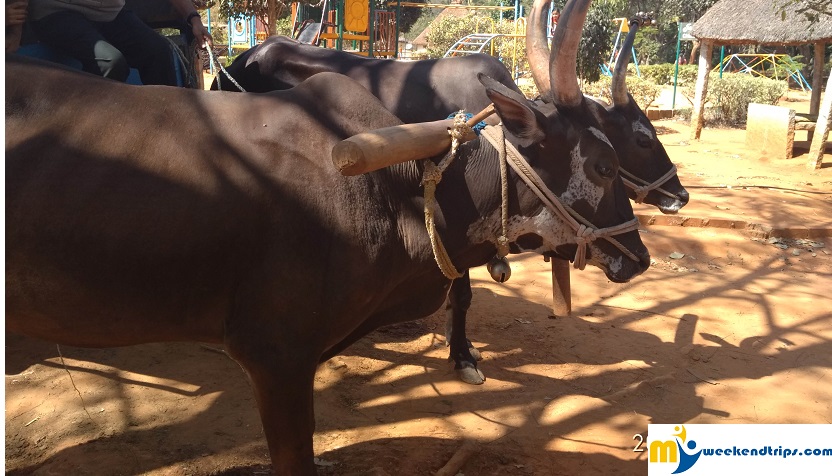 Lunch in included within the ticket price. Ok , I forgot to mention. We have to buy tickets which you can buy there or online.
Note: Since this is Jain farms, all food is vegetarian here. Lunch is included in the ticket, but you can buy chips / ice creams etc separately from a small shop there. All activities are included in the ticket.
Once we had our lunch, we went for some games. We went for archery, I scored a perfect 10 there. We did some village games and kids went into swimming pool. They made some new friends and by the time we realized that there is a magic show as well, it was already 3.00 PM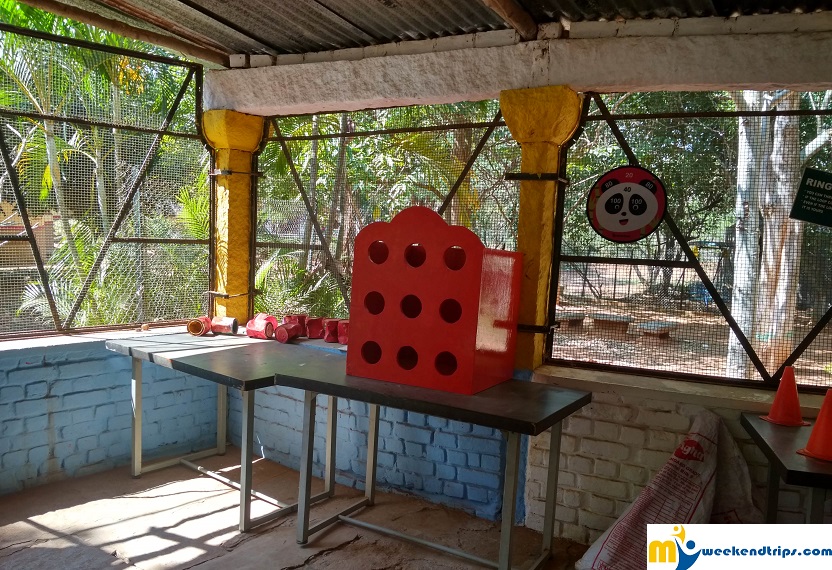 So the next was magic show. Which lasted for around 30 mins followed by Tambola. It was all fun, though we did not win anything in tambola, but was good.
We were completely exhausted. But there was some more to explore. So we just started to go around the property. Found some nice huts and came to know that these can be rented for overnight stay. This was kind of cool.
It was already 4.30 and we were completely exhausted. It was time to head back home.
It was actually a nice and wonderful outing. I definitely recommend this to all the families. Kids will enjoy this place a lot.
Have a good time!
Looking for a one day temple trip try going to Shri Ghati Subramanya temple
-kumar