Megamalai is a hill range located in the Western Ghats of Tamil Nadu. It is situated in the southern part of the Indian Peninsula and is known for its scenic beauty, wildlife, and tea plantations.
Today let us look at some must visit Megamalai tourist places !
Megamalai is a small but gorgeous location in Tamil Nadu's Western Ghats. It is commonly known as the "High Wavy Mountains."
At 1500 metres above sea level, this place is great for escaping the heat and relaxing in the midst of nature.
The location is bordered by an evergreen forest and is fragrantly fresh scented with cardamom, cinnamon, and pepper.
The verdant green tea plantations will allow you to savour hot, freshly brewed tea while strolling through a flora and fauna-rich environment.
What is Megamali famous for ?
Megamalai is known for several things, including:
Scenic Beauty: Megamalai is surrounded by lush green forests and rolling hills, making it a popular destination for nature lovers and trekkers.
Wildlife: The forests of Megamalai are home to a wide variety of wildlife, including elephants, tigers, leopards, and many species of birds.
Tea Plantations: Megamalai is famous for its tea plantations, which produce high-quality tea that is highly sought after by tea connoisseurs.
Adventure Activities: There are several adventure activities available in Megamalai, including trekking, rock climbing, and kayaking.
Cultural Significance: Megamalai is also considered to be of cultural significance, as there are several ancient temples located in the area that are believed to have been built by the Pandya dynasty.
Is Megamalai open for tourists?
Yes ofcourse it is open for tourist and is one of the best places to visit in south India.
Which district is Megamalai?
Megamalai falls into Theni district. It is fondly called as Paccha Kumachi (Green Peak). It is a very popular tea estate location and also a popular tourist destination now.
Which town is near to Megamalai?
Nearest town to Meghamalai is Chinnamanur 25km away, Chinnamanur is well connect by buses from Madurai, Chennai and Bangalore.
Megamalai tourist places
Here are some must-visit tourist places in Megamalai:
High Wavy Dam & Mountain
This scenic mountain range is a popular trekking destination, offering breathtaking views of the surrounding hills and forests. This is one if th best Megamalai tourist places.
Highway Dam, a man-made dam in Megamalai, is located 1 km from the Megamalai Bus Station. It is one of the most popular Megamalai tourist destinations.
Six dams and numerous year-round waterfalls may be found in Megamalai, a small hill town.
The Iravangalar Dam, Manalar Dam, and Highway Dam are the most popular dams to see as part of a Megamalai excursion.
The Highway Dam, surrounded by tea and coffee farms, is a peaceful place to visit with family and friends.
The Highways dam was built in 1978 CE. The tranquil lake and appealing mountain ranges are among the best places in Megamalai to spend time alone with your loved ones.
During the rainy season, one may view the gorgeous river flow that draws so many people each year. The magnificent mountains nestled on each side of the road leading to the Dam will also captivate visitors.
Manalar Dam
One of the well known Megamalai tourist places , Manalar Dam is a man-made dam near Megamalai, about 4 kilometres from Megamalai Bus Station. It is one of the most well-known tourist spots in Megamalai.
The Manalar Dam, surrounded by tea plantations, is a peaceful place to spend some time alone in nature.
The Suruli River, also known as the Manalar River, was cut off by the Manalar Dam, which was erected in 1978 CE.
Megamalai's main draws are the tranquil lake and the beautiful mountain ranges.
During the rainy season, one may see the spectacular river flow that draws many people each year.
Megamalai Wildlife Sanctuary
This sanctuary is home to a wide variety of wildlife, including elephants, tigers, leopards, and many species of birds.
Visitors can go on guided jungle safaris to spot wildlife and explore the forests.
Megamalai Wildlife Sanctuary is a protected reserve located 3 kilometres from the Megamalai Bus Station in Tamil Nadu.
It is one of the most popular tourist spots in Megamalai and one of Tamil Nadu's most well-known wildlife habitats.
The 63,000-hectare Megamalai Animals Sanctuary is a wildlife and outdoor enthusiast's dream.
Because it is located on the border between Tamil Nadu and Kerala, this wildlife sanctuary acts as a buffer zone for Kerala's Periyar Tiger Reserve.
This location is a refuge for those who enjoy the outdoors and wildlife.
A prospective tiger reserve has been proposed for the Megamalai Wildlife Sanctuary in the Theni district.
It is home to several plant and animal species, as well as animals, birds, reptiles, plants, and evergreen woods.
Elephants, tigers, leopards, Nilgiri tahr, gaurs, spotted deer, barking deer, sambar deer, wild boars, porcupines, Nilgiri langurs, lion-tailed macaques, common langurs, bonnet macaques, and sloths are among the sanctuary's occupants.
Megamalai Viewpoint
Megamalai Viewpoint is located 11 kilometres from Megamalai Bus Station in Megamalai, Tamil Nadu.
One of the most beautiful and nicest places to visit in Megamalai. If you're looking for an exciting adventure, the Megamalai viewpoint is a must-see.
This spectacular vista, surrounded by a tranquil environment and lush vegetation, will take your breath away.
Furthermore, in the appropriate direction, one can participate in activities such as campfires and spend a beautiful evening with their loved ones.
Tourists must take a short hike to reach the spot. Because there are no stores nearby, one must bring enough snacks, water, a first-aid kit, and other requirements.
This vantage point offers stunning panoramic views of grasslands, lakes, massive tea estates, and mist-covered mountains.
Iravangalar Dam
Iravangalar Dam is a manmade reservoir located near Megamalai in Iravangalar, about 18 kilometres from Megamalai Bus Stop.
It is a popular Megamalai tourist site and one of Tamil Nadu's most beautiful dams.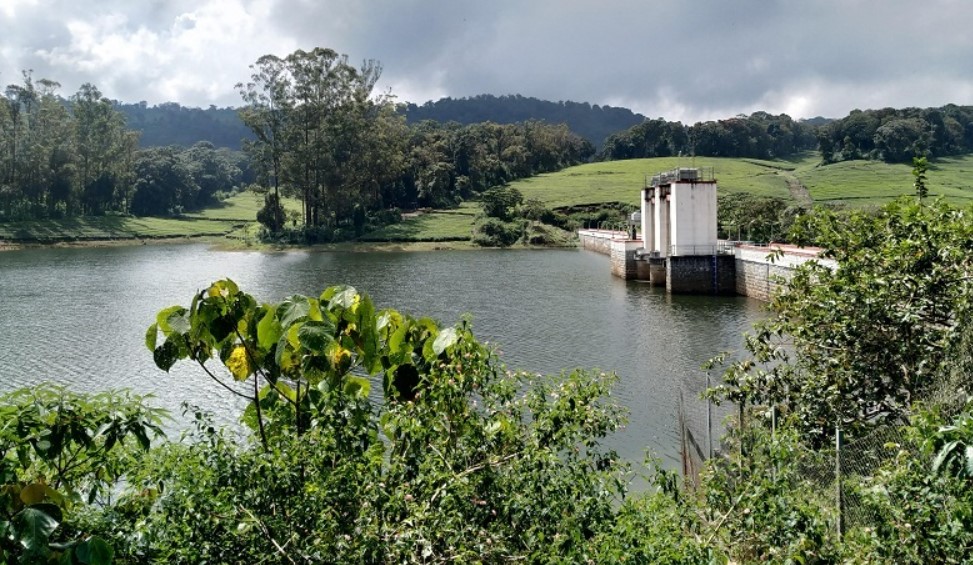 The Iravangalar Dam, flanked by tea plantations and hazy hills, is an ideal setting for some alone time in nature.
Megamalai Tea Estate
The tea plantations in Megamalai are famous for producing high-quality tea, and visitors can take guided tours to learn about the tea-making process and taste different blends.
Suruli Falls
This scenic waterfall is surrounded by dense forests and is a popular destination for picnics and swims.
Chinna Suruli Falls is a picturesque waterfall located in the Kombai Thozhu hamlet near Theni, 3 kilometres from Kombai Thozu, 44 kilometres from Theni, and 69 kilometres from Megamalai.
It is one of the most beautiful waterfalls near Madurai and one of the top Megamalai tourist attractions, located between Megamalai and Theni.
The Chinna Suruli Falls are located on the slopes of the Megamalai mountain, surrounded by lush, green trees. Because it rises in the Megamalai Hills and is known as Cloudland Falls, it is known as the younger Suruli Falls and differs from Suruli Falls, which is located near Cumbum town. Chinna means "small" or "younger" in the local language.
Maharaja Mettu
Maharaja Mettu is a popular viewpoint in Megamalai, located 1 mile from the Iravangalar Dam and 17 kilometres from the Megamalai Bus Stop.
It is one of the must-see sights in Megamalai as part of the Megamalai excursion and is located near the Vennial Tea farm.
To fully appreciate the area's stunning splendour, you must visit Maharajamettu View Point.
From here, you can get a bird's-eye view of the entire area, and you'll be amazed at how well the rugged mountains compliment the seemingly endless greenery.
Maharaja Mettu offers a beautiful view of the Cumbum Valley, lush tea plantations, and the entire Varusanadu Hills mountain range.
One would be surprised to see endless greenery from this vantage point, which is perfectly complemented by the granite mountains.
The viewpoint is around 400 metres away from the road. Because the viewpoint is managed by the Tamil Nadu Forest Department, there is an entrance fee.
The view from the point was beautiful, with clouds and mist strewn across the plains. If you're lucky, you might spot some wild elephants in the adjacent forest.
Vellimalai
It is considered Megamalai's focal point. Vellimalai provides a serene and peaceful environment in which to see the wild animals and scientifically designed tea gardens.
Megamalai is an excellent place for unfettered exploring.
The never-ending tea hills and the many animals' screams just add to the delightful experience that awaits you. You may relax without having to think about anything.
Vellimalai Lord Murgan Temple is also must visit.
Visitors can also explore the surrounding villages, meet local people, and experience the local culture.
---
FAQ – Megamalai tourist places
Is Megamalai worth visiting?
Ofcourse , there is no better spot to escape the heat than this charming retreat surrounded by nature. Meghamalai is one of the greatest places to visit in Tamil Nadu if you want to spend a quiet and tranquil weekend away from the city.
Which month is best for Megamalai?
The winter season is the finest time to visit Meghamalai. October, November, December, January, February, March, April, and May are the finest months to visit. Monsoon season in Meghamalai lasts from July to September.
What are the animals in Megamalai?
Spotted deer, Spotted dove, Barking deer, Sambar deer, Mouse deer, Grizzled giant squirrel, Indian flying fox, Indian giant squirrel etc can be found in Megamalai
How many tigers are there in Megamalai?
Not really sure about the exact numbers but from various sources on internet, around 20 tigers are expected to be in Megamalai wildlife sanctuary.
How many hairpin bends are there in Megamalai?
There are 18 hairpin curves during the 35-kilometre-long ride to Meghamalai. 
How far is Megamalai from Madurai?
125 kms approximately. It takes around 4 to 5 hours to reach Madurai from Megamali.
How high is Megamalai from sea level?
Meghamalai is situated at a height of around 1,500 m from sea level.
Which airport is near to Megamalai?
Madurai airport is the nearest airport. You can get regular cab / taxi from Madurai. You can also take public transport.
What is Megamalai in English?
Megamalai means cloud clad mountain.
What is the another name of Megamalai?
It is also known as Paccha Kumachi(Green Peak). 
Who owns Megamalai tea Estate?
A 6000-acre tea plantation, the Highwavys Company, is a tea plantation owned originally by Hindustan Lever and now successfully run by the Woodbriar group.
What are the things to do in Megamalai.
Trekking: Megamalai is surrounded by the Megamalai Wildlife Sanctuary and the Periyar Wildlife Sanctuary, making it an ideal site for hiking, bird watching, or simply relaxing. The woodlands of Megamalai are perfect for hiking and discovering hidden gems like as trees, birds, and other wildlife. The walks are short, easy, and lovely.
Bird Watching: A migrating bird is a frequent visitor to Megamalai. Among Megamalai's trees are at least 100 distinct bird species, including some of the rarest and most endangered. Enjoy some bird watching and be enchanted by their beauty.
Megamalai is a delightful destination where you may get away from the rush and bustle of everyday life. The location, as well as the warm cup of freshly brewed tea or coffee, make this a great trip. You'll have the opportunity to live in a magical area between the clouds.
Visit Tea Estates : Visit the verdant tea, coffee, cinnamon, and cardamom plantations to learn about their growing processes and to explore the enormous fields. Fresh vegetables can also be purchased and carried home.
Visit wildlife sanctuary : Megamalai is surrounded by the Megamalai Wildlife Sanctuary and the Periyar Wildlife Sanctuary, making it an ideal place to see wild animals.
Megamalai is a picturesque destination that offers a unique blend of natural beauty, adventure, and cultural heritage, making it an ideal destination for tourists.