Has it been quite some time when you have gone out for a long drive. Are kids getting restless? When the next long weekend kicks in, should plan for some outing. And Bangalore to Pondicherry is something which can be a good option!
So below is the experience we had during our trip in the summer of 2019.
Why? It was summer break for the kids and hence it was more so that we plan something long and interesting.
After lot of search and considering various options we decided to head to Pondicherry on the eastern cost of India.
So I will share my experience and talk about pondicherry tourism , and the places to visit in pondicherry?
Bangalore to Pondicherry – quick facts
Before I share our experience here are quick facts about Bangalore to Pondicherry trip ..
Distance from Bangalore : Approx 340 Kms one way
Distance from Chennai: Approx 150 Kms
Travel time: 8 hrs from Bangalore and 4 hours from Chennai
Road conditions: Very good
Food options: Many on the way
What to see/do: Parks, Monuments, Beaches, Auroville
So what are the places to visit in pondicherry?
We had 3 days in hand. We had planned for half day of travel each side. Plan was to start early friday morning and back by Sunday night.
As planned we started early in the morning by 5.00 AM. The plan was to reach Pondy ( cute little name for Puducherry ) by 1.00 PM.
Google told us that it will take 6 hours 30 mins to 7 hours 30 mins. We knew that we will get good speed and considering the time for breakfast it will take around 8 hours and have lunch at the hotel.
Early morning plans are quite difficult always, but we were able to start on time. Bags were packed one night before. So early morning, bundled the kids in the car and we were out on the road.
We decided to take Chitoor route while going. It was a early morning so no much traffic. Till Chitoor road was 4 lane and then it becomes 2 lane road. But road conditions are good.
We reached the hotel by 1.00 PM, checked in and directly went for lunch. We stayed in hotel Sunway Manor. It was a good hotel with very helpful staff. By 3.00 we were free and wanted to unitize the remaining day in best possible way.
Bangalore to Pondicherry – Day1
Our first day then –
We started by visiting the Auribindo ashram (1). It is a spritual community center and is near to rock beach and hence it was first on the list. Total time needed to visit the ashram is around 45 mins to 1 hour.
You need to put your mobile in silent mode and also make sure that you take special care of kids inside as a pin drop silence is maintained.
Inside there is samadhi is there. You can sit there in silence as long as you want. You will see lots of people sitting and meditating there.
It feels so good to be there. After spending some time we went to the book shop inside the ashram.
It has lots of book written by the guru and I bought a couple of them. Spent total for 40 mins inside. With kids it was difficult to stay there for long.
So we came out, I think it was 4.30 PM. We decided to take a stroll around before going to the beach area.
We saw French embassy (2)  and other french style houses (3). Old building, maintaining their charm and it was good experience. After strolling for some time we went to the beach (4).
The beach is quite long you can take a nice evening walk on the beach side. As soon as kids saw the beach they were thrilled and we ended up spending a good amount of time there.
By the time we could realize that it's time to wind up the day, it was already 7.30 PM.
Persuaded the kids to return back. Were back by 8.00 and straight to dinner. It was a long long tiring day and we wanted to start next day early 🙂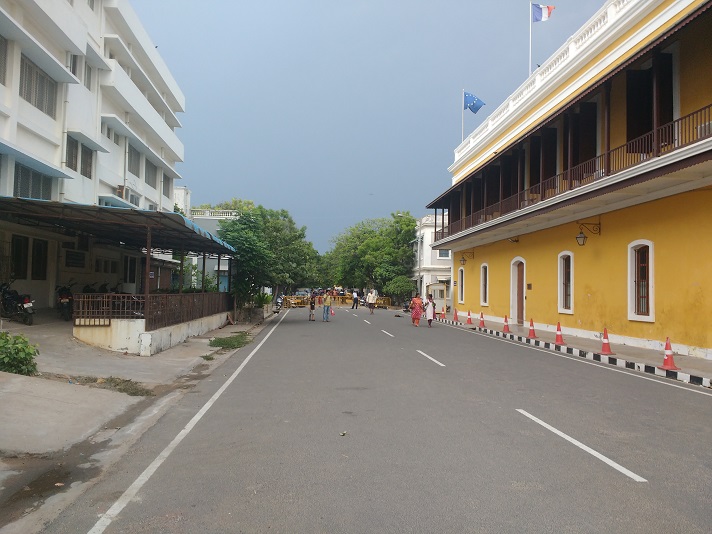 Bangalore to Pondicherry – Day 2
Our second day in Pondy –
Woke up early. Guess it was 6.00 AM. We were ready by 7.00. Had the complementary breakfast provided by hotel.
Our first stop on second day was Arulmigu Manakula Vinayagar Temple (5). We were able to visit the temple by 9.00 AM.
Our next plan was to go to Paradise beach and we had planned to take the ferry to go there. So we drove down to boat house (6).
Its a area from where you will get the ferry which will take you to paradise beach (7).
To visit boat house and take ferry you need the tickets. If you take regular boat it will cost you around Rs150 per person.
The boat house itself is not that impressive. Then you take ferry to paradise beach.
@boat house and paradise beach

Take extra precaution and care of kids. They do have life jackets, but make sure that you put the on for everyone and properly buckle it up. It will take approximately 15 to 20 mins to reach the beach.
Once you reach the beach area you will find that you are in a different world. This was time for kids to be free 🙂 they were on the beach, in the water. You can do horse riding, rain dance , couple of other sports etc. It was good time spent there.
We stayed there till 1.00 PM and then started back. By 1.45 we were back at hotel. Took bath and had lunch, by 3.00 PM we were free to explore another destination on Pondy.
This time it was time for Auroville (8) . It was around 15 kms from where we stayed. We reached there by 4.00.
It was almost closing time. We went straight to the information center. Watched a short vedio on Auroville and took the pass for Matrimandir. It is a 2 kms walk from the information center to the viewing point of Matrimandir.
Matrimandir from the viewing point
It was a good walk. Kids were having fun. From viewing point you can the dome. You cannot go near to it and go inside it. It needs special permission.
A special banyana tree on the way to Matrimandir
Just to tell you, Auroville is a experimental township which is a world village and people of many nationalities live here. It is a self sustained city and Matrimandir is meditation center. You can visit more about them @ http://www.auroville.org ..
We were done by 6.30 PM and came back to seaside promenade. Spent another 1 hour there and we were done for the day.
Bangalore to Pondicherry – Day 3
Our day 3 @ Pondy
We only had half a day in hand. We wanted to start back by 12.00 so that we can reach Bangalore by 8.00 PM.
Our experience said that we will take at-least 8 to 9 hours. We decided to visit Bharti Park (9). Have a relaxed morning.
Parks opens at 8.00 AM and we were ready by 9.00 AM. So checked out. Went straight to the park. It is a very well maintained park.
There is Park Monument, a white color imposing structure. We spent some time there. I think it was 11.30 and we decided to head back.
By 12.00 we were on our way back to Bangalore. We took Pondy -> Tiruvanamallai -> Bangaore route.
This route was better. Had lunch on the way. By 7.00 PM we were at the Hosur toll gate. By 8.30 we were at home.
Over all it was tiring, but fun filled trip.!! Note that there are lots of other places which we could not visit and worth visiting if you have couple of days more in hand like
Botanical Garden,
Cathedral of our lady church,
Basilica of the Sacred heart of Jesus church,
Vardaraja Perumal temple,
Pondicherry Mesuem etc ..
How to reach from Bangalore to Pondicherry
From Bangalore there are 2 routes
1) [Best route] Hosur -> Tiruvannamalai -> Puducherry
2)Bangalore -> Vellore -> Puducherry
3)Bangalore -> Chitoor -> Puducherry
From Chennai – take East Coast Road
Hope you liked this post and got some information about your trip to Pondicherry.
It is a very nice place with very nice, warm and welcoming people. Do visit Pondy during your next long weekend. If you have 4 days in hand then much better!
Have a safe trip!!
You may also like: Nandi Hills – The Original Weekend Getaway from Bangalore