In and around Bengaluru, there are many places which can be covered in a days time. We will take you to Shivagange today. A beautiful place around 55 kms from Bengaluru. As always below are some quick facts.
Originally published on May 2016
Quick Facts – Shivagange
Distance: 110 kms approx for total trip – Around 55 Kms one way.
Time needed from travel: approx 1 to 1 hour 30 mins one way
No of Days needed: 1 day
Road condition: Very Good
Food options: many on the way
What to see/do: temples, trekking, Nature, Picnic spot, Pilgrimage center
How to reach Shivagange
Route: Bangalore -> Neelamangla-> Dobbaspet -> Shivagange
Head towards Tumkur road. You will cross Neelamangla and then head towards Dobbespet. Do not cross Dobbespet, go below the flyover and take left. Keep on going straight. After around 6 to 7 kms, you will find a marking for Shivagange. If in doubt ask some one.

There are direct buses from Bangalore (Majestic Bus Depot) to Tumkur. From Tumkur you can go to Shivagange.
Why is Shivagange famous?
Shivaganga is a hill. It boasts a monolithic granite hill which is around 1380 meters above sea level. The hill top offers a picturesque view of the villages around.
If you plan to trek to the top of the hill, it is almost a 2 hours walk. There are various temples to visit here and then there is a fresh water spring, also called as Patal Ganga.
Entrance to first temple:
Once you have covered the first temple, then you start climbing up which is a long climb. Almost 2 hours if you want to climb till the top. Half way there is another temple which is again a cave temple. Its has a very narrow entrance.
A monkey sitting on Nandi, watching people pass by.
Start of the climb:
Legend behind Shivagange
There a legend behind this place. Legend says that Rishi Agastya has visited this place and performed penance here and pleased lord Shiva. The main temple is called as Gavi-Gangadhara. Gavi in Kannada means cave. And it is a Shiva temple and hence its called as Gavigangadhareshwara.
This is the first temple which is at the foot hill. Once you park your vehicle, you have to climb steps to reach this temple. Its almost a 15 minutes climb. Make sure that you have all your belongings covered. There are lots of monkeys around and they tend to snatch everything.
---
Few things to remember. We tend to remove our shoes before starting to climb the steps of first temple. But if you want to trek, please keep them on. You can remove your shoes before you enter the temple. Do not carry any eatables. Lots of monkeys around, So travel light. On the way to the hill top, there are few shops selling water, soft drinks etc. If possible start early. It is always very pleasant morning there. If you are with kids, make sure that you have some extra clothes, have their shoes on ad have few small water bottles in a bag.
The difficult trek:
A view from the top: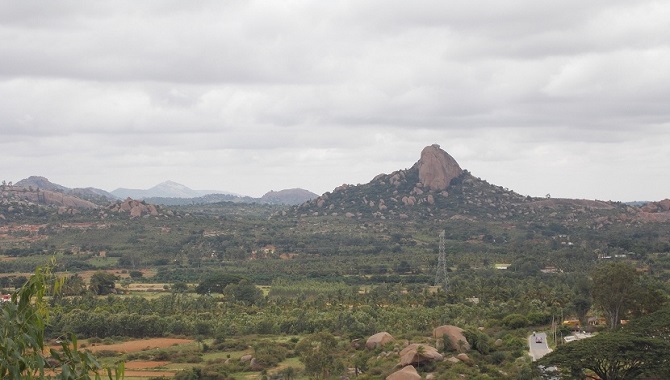 Another small temple
Shivgange is not far from Bangalore. If you start early, it does not take more than 60 to 90 mins to reach there. If you are staying in Electronics City, you can also take NICE road and exit at Tumkur road exit and head straight on NH4 from there.
---
It is a nice one day weekend trip which you can enjoy with family and friends. The climb is not that steep, but it is long. Can be a challange for elderly people and also with small kids. Make sure that you carry a closed bag/bagpack. Lot's of monkeys around and they tend to snatch your bag if they see it open and sense that there is something to eat.
Also if you are with small babies please take a special note of this. Mothers carrying small babies should not carry open bags. Monkeys tend to jump and snatch the bags and this becomes a challange.
Over all it will be a nice day spent. So do visit Shivagange once !
Have fun!
Planning to visit Shivanasamudram? Read before you go…