Guys do you love trekking ? Savan Durga can be a good weekend getaway for you then. So why you should head to SavanDurga Hills over this weekend?
( Originally published on 24th June 2017)
Answer below questions
You love nature
You love long drive admist lot of greenery
You love trekking and
You would love if this trekking is combined with a temple visit!
If any of above has an answer YES for you, then think over driving down to "Savan Durga" on the Magadi road, Tumkuru, over this weekend. Yes, the weekend has just started and you have today and tomorrow and a nice weather  which namma Bengaluru offers. So what are you waiting for. Believe me your kids are going to love the SavanDurga Hills.
If you are still young….., I mean single ( he..he  no offence for guys who are married, I was just kidding), form a gang of bikers and drive down guys. As I always say enjoy you weekend, do not let it go in shopping malls  🙂
Before you plan for Savan Durga, some quick facts
Distance from Bangalore : Approx 60Kms one way
Travel time: 2 to 3 hrs from Bangalore (one side, depends on traffic)
Road conditions: Very good
Food options: Many on the way
What to see/do: temple, mountain, trekking
How to reach Savan Durga
From Bangalore there are 2 routes. This is the best I found:
1)Drive towards Tumkur road (Hebbal->Yeshwantpur->Tumkur Road).
2)You will cross Neelamangla (Yeshwantpur -> Tumkur Road -> Neelamangala).
3)After Neelamangla that take a turn towards Magadi.
4)Once you reach Magadi take a letf towards Savandurga
The hill of Savadurga is considered to be the largest monolithic hills India and one of the largest in world.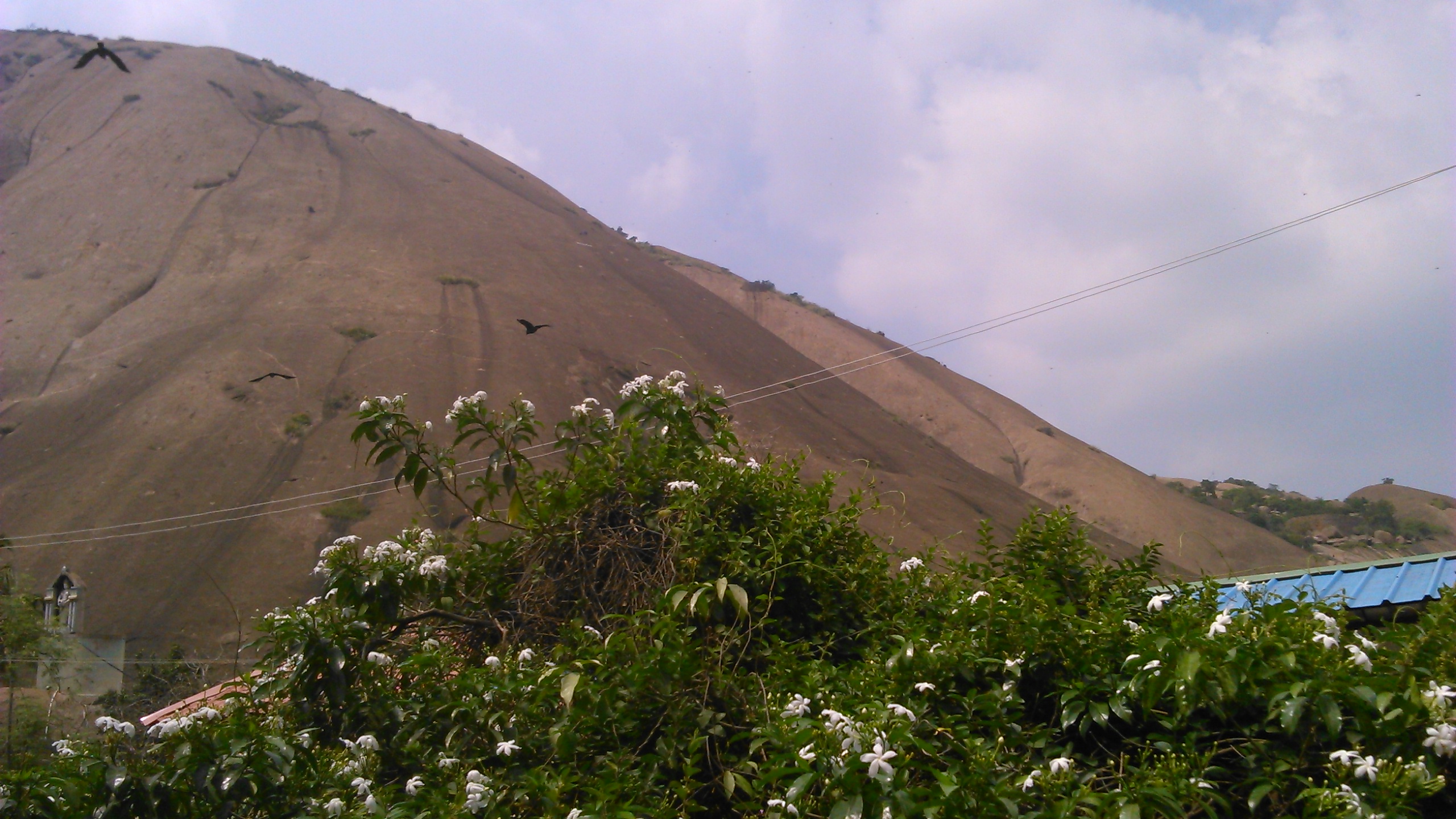 The Arkavathi river passes nearby through the Thippagondanahalli reservoir and on towards Manchanabele dam.
Things to do at Savan Durga
At Savandurga Hills There are two temples situated at the foothill, Savandi Veerabhadreshwara Swamy and Narasimha Swamy. These temples are worth a visit. I love visiting temples and religious places, specifically the temple architectures of historical temples in South India and hence I do not miss a chance to visit one if and when I find time.
temple @ savandurgahills
hill view from temple
Then you can do rock climbing. The hill is more than 1200 meters above sea level and offers excellent climbing adventure. People say there are 2 trekking paths to the top of hill. We tried the one just in front of temple and was probably the simplest and safest one. The other path, people say is more rocky and difficult.
Anyway you have to be very carefull. Always have a extra pairs of snickers/sports shoes handy. The hill and the trek is quite steep and hence with kids it will difficult to reach at the top. Hence we did leave kids behind with elder members of family.
people trekking
Trekking to top as always is a fun and once you reach to the top of the hill, the view is going to amaze you. So don't miss this trek if you visit.
There are not much eating options there. So carry your own food. If you start early lets say by 6.00 AM, you will reach by 8.00 and can start back by 12.00 PM. In that case you will find some good eating options on the way.
---
You may also like – Top 5 things to do in Bangalore over weekend
---
A nice serene drive towards savandurga hills
There are many other places near by. Which you can may be try in case you are not the one who like a very relaxed outing. We started quite late around 10.00 AM with food and had a nice afternoon picnic @ Savadurga.
Another nice view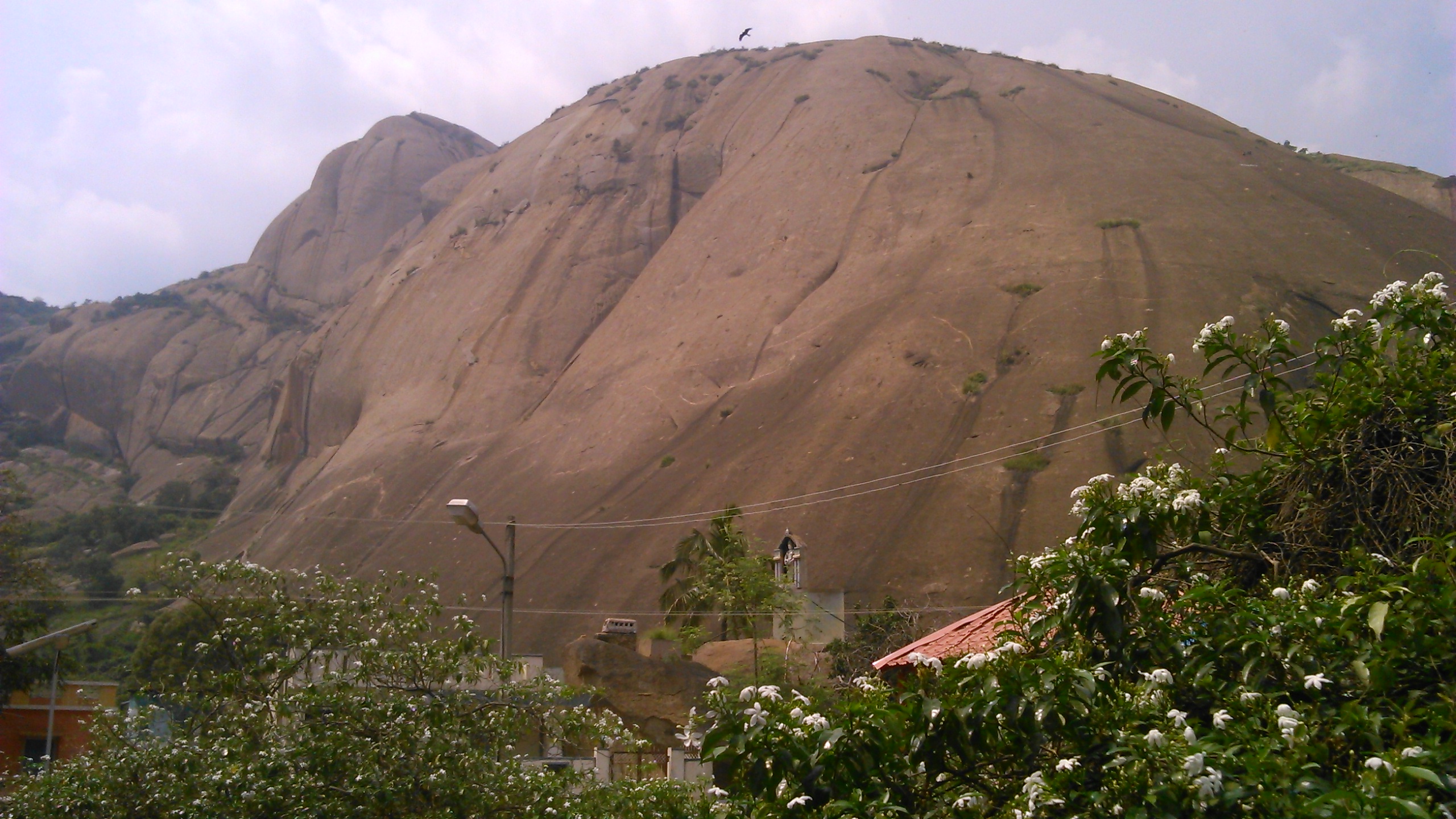 So go ahead. Enjoy your weekend.
Cheers!
Sanjeev
---